Our Complete Guide to Houseplant Care
Whether you're just starting out with houseplants or a veteran houseplant-parent looking to add to your collection, here's everything you need to know.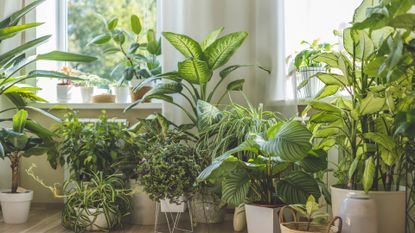 (Image credit: Kostikova)
Get the Know How on Caring for Your Favorite Houseplants
When it comes to choosing which specific houseplants you want to grow and care for, the possibilities are seemingly endless. To make things trickier, almost every plant will have slightly different needs in order to thrive. Luckily, we're here to give you the Know How to become a proud plant-parent.
Below are a few of the most popular houseplants, including some you may growing in your home right now. Click on the image to learn more.
Those are just some of the most popular houseplants that we see. If none of those plants is what you're looking for, we invite you to visit our houseplants category page where we're sure you'll find the information you've been searching for.
If you have a specific question about a different houseplant that you're growing, be sure visit our questions website today and get answers straight from our experts.


Your Houseplants Made it Through Another Year! Now What?
Hooray! You did it! Getting through the first year with a new houseplant is impressive on its own, but come year two, one question we get asked most often is: "now what do I do?" This is almost always the case when a plant-parent gets through year one with a houseplant they've never grown before.
Well, the good news is that you have options! Learn a little more below about keeping your houseplants going for years to come.


REPOTTING YOUR HOUSEPLANTS
USING CUTTINGS TO PROPAGATE
Discover how to use cuttings to propagate houseplants.
Taking cuttings from houseplants serves two purposes: It gives your plant a little bit of a trim to help it better fit its space, and it's a free and easy way to increase the number of plants you have in your collection.

Multiply Your Houseplant Collection for Free!
Regardless of whether you're just getting into houseplants or an established plant-parent (or even grandparent), propagation should be your best friend.
Plant propagation is the process of creating new plants from existing ones, and trust us, it will save you a bunch of time and money in the long run. Typically, propagation is done with seeds. For houseplants though, vegetative cuttings are much more common. Sometimes, different houseplants can have subtle differences in how they're propagated. To be honest, it's a very broad topic. Luckily for you, we have a pretty robust collection of articles dedicated to houseplant propagation.
Just about any plant can also be propagated by seed. However, that process can sometimes be either a lot of work or just too time consuming. Visit our Seed Starting for Beginners page to learn more about starting your favorite plants by seed.
Go On, Level Up Your Houseplant Game!
The sad truth is, not all houseplants are easy to grow. Some, even ones that are fairly common and readily available, require just a little bit of extra love and attention.
Check out some of the plants that we won't say are difficult to grow, but will say are just one step beyond beginner plants.


Impress Your Friends With These Showstoppers!
Finally, imagine your plant-loving friends walking into your home and being met with a touch of the tropics! Learn more about just a couple of plants we think would be an incredible addition to anyone's houseplant collection.
Learn the tried and tested tips to growing a stunning bird of paradise flower... and then sit back and watch the jaws drop.
Bromeliads will instantly add vibrant, exotic colors to your space. And perhaps surprisingly, they're actually rather low-maintenance with the right Know How.
What did we miss? If there's a specific houseplant that you're looking for but just can't find, let us know!
Request more information by emailing us at questions@gardeningknowhow.com or by visiting questions.gardeningknowhow.com
Gardening tips, videos, info and more delivered right to your inbox!
Sign up for the Gardening Know How newsletter today and receive a free download of our most popular eBook "How to Grow Delicious Tomatoes."