GKH's Complete Guide To Flowers
Want grow bold, bright, beautiful flowers? Check out the Gardening Know How guide to growing ornamental flowers, trees, and shrubs.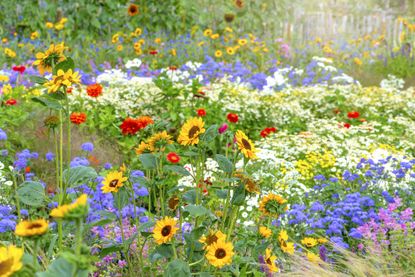 (Image credit: Jacky Parker Photography)
Did you know that according to recent research, there are nearly 400,000 flowering plants in the world? However, despite the impressive number of options available to gardeners, fewer than 5% of those plants are regularly grown. So what are the most common ornamentals around the world? Well, here are some of the most popular flowers according to Gardening Know How visitors. Click the image to learn more:
Find More Flowers in Our Complete A-Z Flower Guide
Do you have a specific question about your flowers? Visit our questions website today and get your answers straight from our experts.
Full Sun vs. Shade: Understanding Your Flower Options
Just like people, some flowers live for the sunshine while others would much rather have some protection from the rays. This means that the key to growing happy, healthy flowers usually starts with knowing which ones will thrive in different parts of your garden.
Having a dark patch in your garden or yard doesn't always mean you can't add some pops of color. In fact, a few of the right flowers planted in just the right places will most certainly brighten up an otherwise dark corner. So besides Bleeding Heart, what other flowers will grow well in the shade? Click here to find out.
Of course, other spots in your garden or yard may have the opposite problem – a full day's worth of sun beating down. The same way that shade shouldn't prevent you from growing beautiful flowers, nor should too much sun. In addition to Shasta Daisies, check out our list of popular, full sun flowers by clicking here.
Want More Flowers? Try These Bushes, Shrubs & Trees
Many of the most popular flowers grown around the world are actually found on bushes, shrubs, and trees. Want to learn more about how to grow them in your garden? Get the know how on growing your favorites by clicking below:
Gardening tips, videos, info and more delivered right to your inbox!
Sign up for the Gardening Know How newsletter today and receive a free download of our most popular eBook "How to Grow Delicious Tomatoes."