Zone 8 Tropical Plants: Can You Grow Tropical Plants In Zone 8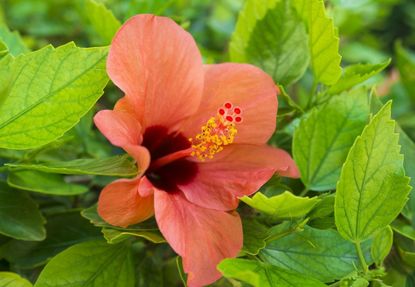 (Image credit: ulkan)
Can you grow tropical plants in zone 8? You may have wondered this after a trip to a tropical country or a visit to the tropical section of a botanical garden. With their vibrant flower colors, big leaves, and intense floral scents, there is a lot to love about tropical plants.
Tropical Plants for Zone 8
Zone 8 is far from the tropics, but it would be a mistake to assume that no tropical plants can be grown there. While some plants are ruled out unless you have an indoor greenhouse, there are plenty of cold hardy tropicals that would make great additions to a zone 8 garden. Some great zone 8 tropical plants are listed below: Alocasia and Colocasia species, known as elephant ears, have impressively large leaves that give them a very tropical look. Some varieties, including Alocasia gagaena, A. odora, Colocasia nancyana, and Colocasia "Black Magic," are hardy in zone 8 and can be kept in the ground over the winter; others should be dug up in fall and replanted in spring. The ginger family (Zingiberaceae) includes tropical plants, often with showy flowers, that grow from underground stems called rhizomes. Ginger (Zingiber officinale) and turmeric (Curcuma longa) are the most familiar members of this plant family. Both can be grown in zone 8 year-round, though they can benefit from protection during the winter. The ginger family also includes many ornamental species and varieties. Most species in the Alpinia genus are hardy in zone 8, and they provide ornamental foliage in addition to their fragrant and colorful flowers. Zingiber mioga, or Japanese ginger, is also suitable for zone 8. This species is used both as an ornamental plant and as a flavoring and garnish in Japanese and Korean cuisine. Palms always add a tropical look to a landscape. Chinese windmill palm (Trachycarpus fortunei), Mediterranean fan palm (Chamaerops humilis), and Pindo palm (Butia capitata) are all suitable for planting in zone 8. A banana tree would be a surprising addition to a zone 8 garden, but there are several banana varieties that can overwinter in climates as cold as zone 6. Among the most reliably cold hardy is Musa basjoo or the hardy banana. The leaves and fruits look like those of edible bananas, though the fruits of hardy banana are inedible. Musa zebrina, a banana with ornamental red and green variegated leaves, can grow in zone 8 with some protection during the winter. Other tropical plants that are good selections for zone 8 include:
Of course, other options for creating a tropical garden in zone 8 include growing less cold hardy tropicals as annuals or moving tender plants indoors during the winter. Using these strategies, it is possible to grow almost any tropical plant in zone 8.
Gardening tips, videos, info and more delivered right to your inbox!
Sign up for the Gardening Know How newsletter today and receive a free download of our most popular eBook "How to Grow Delicious Tomatoes."