What Is Magical Michael Basil – How To Grow Magical Michael Basil Plants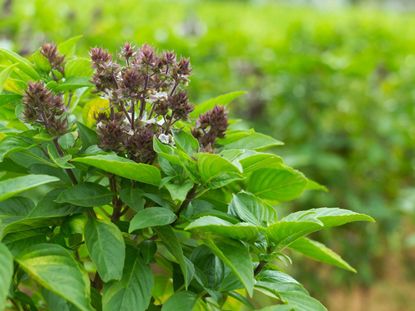 (Image credit: Jtasphoto)
If you're looking for a double-duty basil, Magical Michael is an excellent choice. This All America Winner has an attractive appearance, which makes it a showy plant to incorporate into decorative flower pots and front-of-the-house displays.
What is Magical Michael Basil?
Originally developed for ornamental use, Magical Michael basil plants have a compact bush-like shape and reach a consistent size at maturity. The aromatic green leaves are edible, although not as flavorful as other types of basil. The leaves can be used in flower arrangements for their beauty and fragrance.
Here's additional Magical Michael basil info:
Life Span: Annual
Height: 15 to 16 inches (38 to 40.5 cm.)
Spacing: 14 to 18 inches (35.5 to 45.5 cm.)
Light Requirements: Full sun
Water Requirements: Average to moist soil
Frost Resistant: No
Flower Color: Purple bracts, white flowers
Uses: Culinary, ornamental, attractive to pollinators
Growing Magical Michael Basil
Start Magical Michael basil plants indoors 6 to 8 weeks before the final frost date. Transplant outdoors only after danger of frost has passed. Seed can also be sowed directly into the garden once the soil temperatures have reached 70 degrees F. (21 C.) and overnight temperatures remain above 50 degrees F. (10 C.).
Sow seeds in fertile soil, covering them with a very fine layer of dirt. When seeds are kept moist and warm, expect germination within 5 to 10 days. Basil is extremely intolerant of cool weather. Black or dark-spotted leaves can occur when Magical Michael basil plants are exposed to extended temperatures below 50 degrees F. (10 C.) or when sprayed with cold water.
Unlike most other varieties of basil, Magical Michael remains compact. Plants can be spaced 14 to 18 inches (35.5 to 45.5 cm.) apart. When growing Magical Michael basil in containers with other ornamental plants, spacing requirements can be reduced.
Harvesting Magical Michael Basil Plants
Individual basil leaves can be lightly harvested approximately 30 days after transplanting. For a full harvest, cut the basil plant 4 to 6 inches (10 to 15 cm.) above the ground shortly before flowering. (Approximately 80 to 85 days from germination.) Pick leaves carefully as they bruise easily.
Store fresh basil leaves above 50 degrees F. (10 C.) to prevent blackening of the leaves. For long-term storage, basil leaves can be dried in a food dehydrator, on a screen, or by hanging harvested plants upside down in a dry location.
For decorative uses or when harvesting basil seeds, allow plants to reach full maturity and bloom. Let the seed heads dry on the plants before collecting seeds. Fully dried seed can be stored in an airtight container in a cool, dry location.
Fresh leaves can be used as a seasoning in salads and sauces, for pesto, or as an attractive garnish. Magical Michael can also be grown indoors in containers or hydroponic systems for a year-round supply of fresh basil.
This attractive, useful plant is indeed magical!
Gardening tips, videos, info and more delivered right to your inbox!
Sign up for the Gardening Know How newsletter today and receive a free download of our most popular eBook "How to Grow Delicious Tomatoes."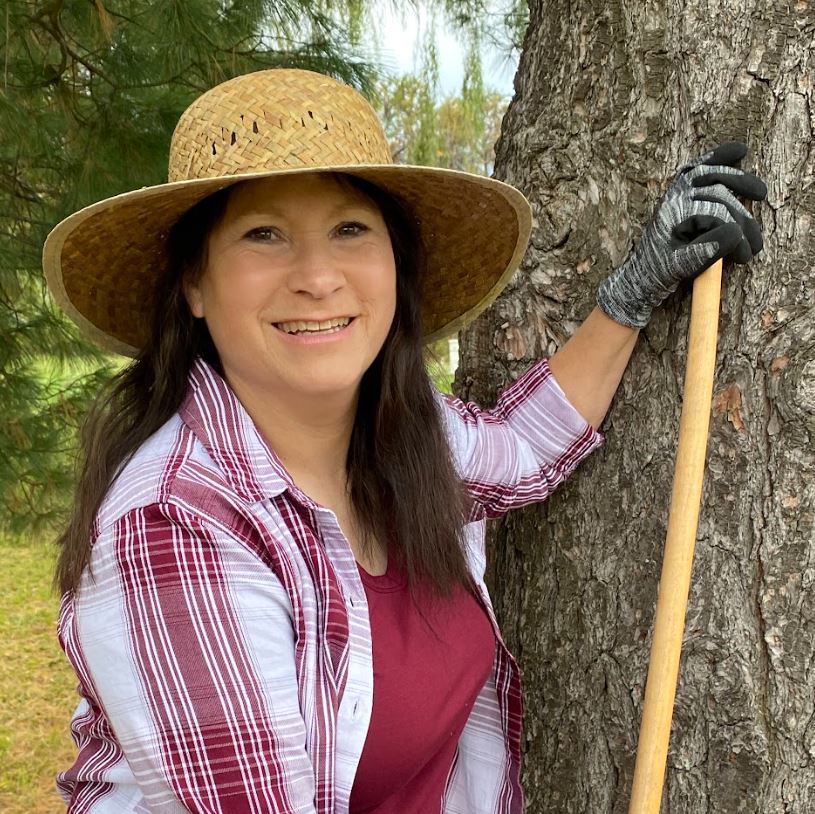 Laura Miller has been gardening all her life. Holding a degree in Biology, Nutrition, and Agriculture, Laura's area of expertise is vegetables, herbs, and all things edible. She lives in Ohio.