Upper Midwest Ornamental Grasses For Year-Round Interest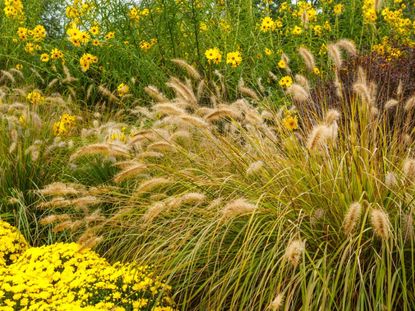 (Image credit: LindasPhotography)
Grass as a garden element goes well beyond that perfect expanse of green turf. Ornamental grasses have become increasingly popular with gardeners and landscapers over the last couple of decades. They provide drama and visual interest, often with minimal maintenance. Here are some ideas for growing ornamental grass in Upper Midwest gardens.
Ornamental Grass in the Garden
The term ornamental grass in gardening refers to actual grass species but also plants that resemble grass, like sedges. Most are perennials, but some grasses are annual. If you grow species native to the Upper Midwest, they should come back every year. Grasses from warmer climates will grow as annuals here.
Ornamental grasses come in two different types of growth habit: spreading and clumping. Spreading grasses can be used as groundcover but can also quickly take over areas of the garden. Clumping grasses stay in a tight space but get bigger over time.
There is a lot of variety in ornamental grasses, and therefore many potential uses. Tall grasses make great privacy screens, while low grasses can be groundcover. Use showy, clumping grasses as you would other perennials in a bed. Low clumping grasses make good edges and borders. You can also grow showy grasses as the centerpiece of a mixed container.
Iowa, Michigan, Wisconsin, and Minnesota native ornamental grasses are great in Upper Midwest gardens, but there are many others to try. Just avoid invasive species and keep spreading non-native grasses well contained. Most of these can be used in all of the Upper Midwest.
Ornamental Grasses for Iowa
• Little Bluestem – This native species grows up to two to three feet (0.6 to 0.9 m) tall and has a clumping growth habit. Look for cultivars that grow blue in summer and turn red in fall.
• Blue Oatgrass – Reaching about three feet tall, blue oatgrass has a lovely bluish-gray color and delicate, feathery foliage.
• Dwarf Blue Fescue – For a blue grass groundcover without a spreading growth habit, try this fescue that stays under a foot tall (0.3 m).
• Switchgrass – For a tall, showy native, try switchgrass, which can grow as tall as six feet (1.8 m).
Ornamental Grasses for Michigan
• Big Bluestem – This is a pretty native grass that grows tall, up to eight feet (2.4 m). It changes from a light bluish-green in summer to reddish-bronze in fall. Use it as a screen or focal point.
• Ravenna Grass – If you really want to impress with height, try this non-native. It grows in a clump up to 13 feet (4 m) tall with showy inflorescences.
• Fountain Grass – Fountain grasses are popular in gardens for the "spill" effect. They make great bed centerpieces. Try P. alopecuroides 'Hameln' for a variety that grows well in Michigan.
Ornamental Grasses for Minnesota
• Indian Grass – This is a lovely native grass for the Minnesota garden. It can grow between 3 and 7 feet tall (0.9 to 2.1 m), is drought resistant, and puts on a pretty fall show.
• Silver Grass – Belonging to the Miscanthus genus, silver grasses are not native but hardy enough for Minnesota. They are also very showy with fountain-like growth and large, feathery flower heads.
• Elephant Grass – For a fun annual in the Minnesota garden, try the 'Prince' cultivar of elephant grass. It is not hardy here but does well in the summer. 'Prince' is a striking purple cultivar that adds nice contrast to beds and borders.
Ornamental Grasses for Wisconsin
• Canada Wild Rye – Native to the whole region, this wild rye is most often grown as forage but also makes a nice landscape feature. Use it where you need a quick privacy screen.
• Bottlebrush Grass – This is not the same as the red flowering plant native to other areas. Elymus hystrix is a Wisconsin native grass with an interesting, bristly flower structure. It grows in woodland areas, so let it naturalize in shady spots.
• Blue Moor Grass – Native to Europe, blue moor grass is hardy in Wisconsin and only grows about a foot tall. The green, twisting foliage has a bluish tint and makes a nice groundcover in full sun or partial shade.
Gardening tips, videos, info and more delivered right to your inbox!
Sign up for the Gardening Know How newsletter today and receive a free download of our most popular eBook "How to Grow Delicious Tomatoes."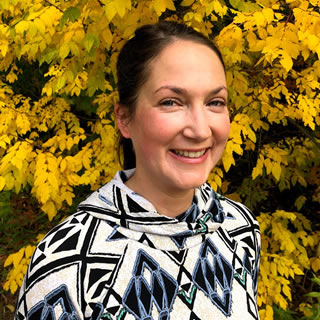 Mary Ellen Ellis has been gardening for over 20 years. With degrees in Chemistry and Biology, Mary Ellen's specialties are flowers, native plants, and herbs.