Zone 5 Flowering Trees – Tips On Growing Flowering Trees In Zone 5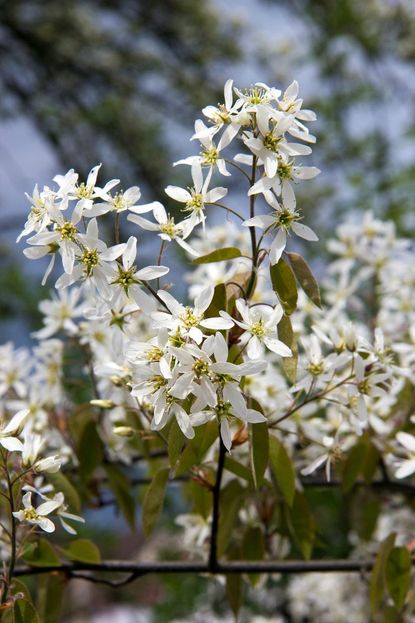 (Image credit: riskms)
Every spring, thousands of people from all over the country flock to Washington D.C. for the National Cherry Blossom Festival. In 1912, Tokyo Mayor Yukio Ozaki gifted these Japanese cherry trees as a symbol of friendship between Japan and the U.S., and this annual festival honors that gift and friendship. Those of us who do not live in D.C. do not have to travel hundreds of miles and fight crowds of tourists to enjoy beautiful flowering trees like this. While unique, exotic flowering trees were once hard to get, today most of us have the leisure of just going to a local garden center and selecting from many ornamental trees. Even in cooler climates, like zone 5, there are many choices of flowering trees. Continue reading to learn about flowering trees for zone 5.
Popular Zone 5 Flowering Trees
There are several varieties of ornamental cherry and plum trees that are hardy in zone 5. Popular varieties include:
Crabapples are another hugely popular type of flowering trees for zone 5. New varieties of crabapple are more resistant to diseases that commonly affect crabapples. Today you can even get crabapple trees that do not produce any messy fruit. Popular varieties of crabapples for zone 5 are:
Ornamental pear trees have become very popular zone 5 flowering trees. Ornamental pears do not produce edible pear fruit. They are prized mainly for their snow white spring blooms and excellent fall foliage. Common varieties of ornamental pear trees are:
My absolute favorite of zone 5 ornamental trees are redbud trees. Redbud varieties for zone 5 are:
Also very popular in zone 5 are flowering dogwood trees. Flowering dogwoods tolerate full sun to part shade, making them very versatile in the landscape. Like ornamental pears, they have spring flowers and colorful fall foliage. Popular varieties are:
Some other popular zone 5 ornamental tree varieties are:
Growing Flowering Trees in Zone 5
Zone 5 ornamental trees do not require any extra care than any other trees. When first planted, they should be regularly and deeply watered during the first growing season. By the second year, roots should be established well enough to seek out their own water and nutrients. In cases of drought, you should provide all landscape plants with extra water. In spring, flowering trees can benefit from a fertilizer specifically made for flowering trees, with extra phosphorus.
Gardening tips, videos, info and more delivered right to your inbox!
Sign up for the Gardening Know How newsletter today and receive a free download of our most popular eBook "How to Grow Delicious Tomatoes."