DIY Autumn Leaf Wreath – Crafting Fall Leaves In A Wreath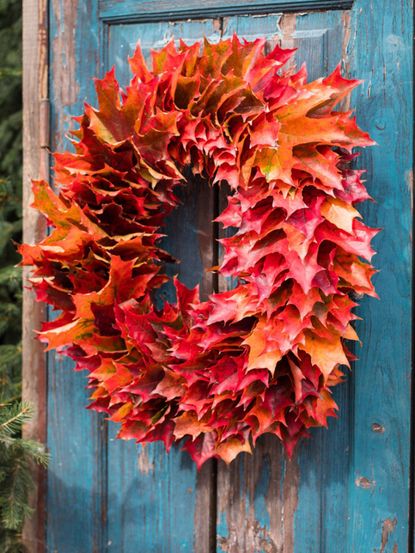 (Image credit: Ekaterina Senyutina)
Are you looking for autumn leaf wreath ideas? A simple DIY autumn leaf wreath is a great way to welcome the change of seasons. Whether you display it on your front door or inside your home, this quick and easy craft is fun to make!
An autumn leaf wreath utilizes the colorful bounty of natural fall leaves, but don't worry if availability of real leaves is a problem. You can also use faux fall leaves in a wreath.
Supplies for a DIY Autumn Leaf Wreath
Before you make an autumn leaf wreath with the real thing, you'll first need to gather a bagful of colorful leaves. Make sure the leaves are fresh or they will crumble when you are stringing the fall leaves in a wreath shape.
When assembling a simple DIY autumn leaf wreath, it's best to use leaves from the same species of tree with consistent thickness. Try harvesting leaves from these trees for the brightest fall colors:
To make an autumn leaf wreath, you'll also need a wire wreath frame, embroidery needle, heavy duty thread, twine, and scissors. If you wish to add a bow to your DIY autumn leaf wreath, you'll need about 9 feet (3 m.) of ribbon. For that festive fall look, consider burlap, plaid, or a seasonal print ribbon.
How to Make an Autumn Leaf Wreath
Cut a length of thread that is a little longer than twice the circumference of your wire wreath. Thread the needle. Bring the ends of the thread together and tie a small loop. Gently push the needle through the back of a brightly colored leaf. Aim for the center of the leaf. Gently pull the leaf along the string until it reaches the loop.
Continue stringing the leaves on the thread and pull them toward the looped end. When using real leaves, allow a little space between the leaves so they will curl as they dry. Once you've strung enough leaves to cover the circumference of the wire wreath, cut the thread and tie the loose ends to the loop to form a circle of leaves.
Using twine, tie the circle of leaves to the wire wreath. Trim off any stems which are protruding into the center of the wreath. Attach a loop to hang the wreath and a bow, if desired. The wreath is now ready to be displayed.
This easy DIY gift idea is one of many projects featured in our latest eBook, Bring Your Garden Indoors: 13 DIY Projects for the Fall and Winter. Learn how downloading our latest eBook can help your neighbors in need by clicking here.
Gardening tips, videos, info and more delivered right to your inbox!
Sign up for the Gardening Know How newsletter today and receive a free download of our most popular eBook "How to Grow Delicious Tomatoes."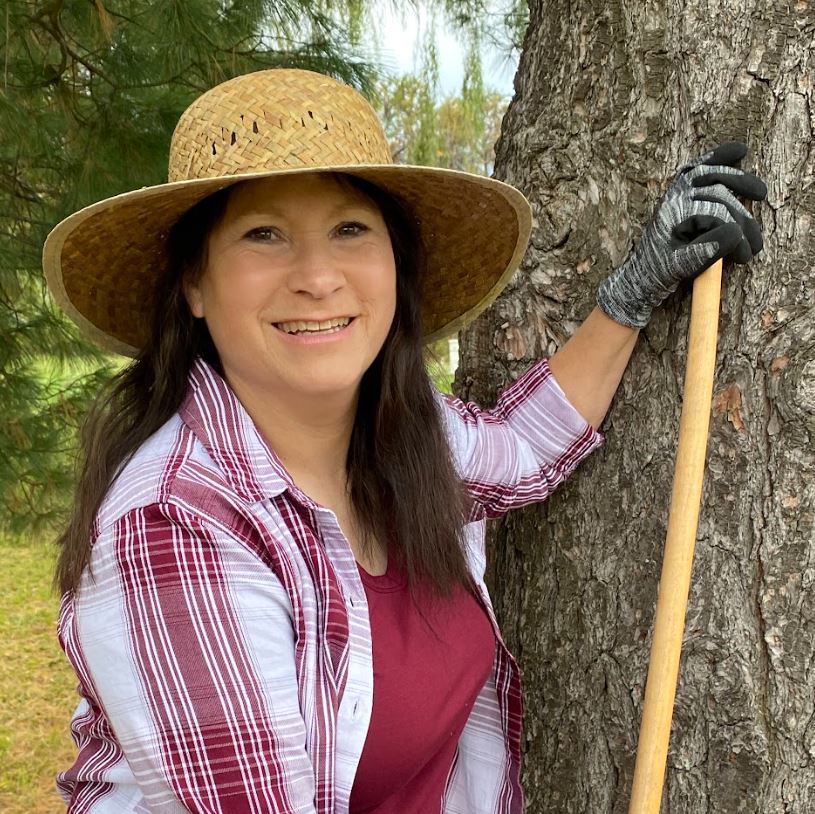 Laura Miller has been gardening all her life. Holding a degree in Biology, Nutrition, and Agriculture, Laura's area of expertise is vegetables, herbs, and all things edible. She lives in Ohio.