Rotting Cactus Plants: Learn About Erwinia Soft Rot In Cactus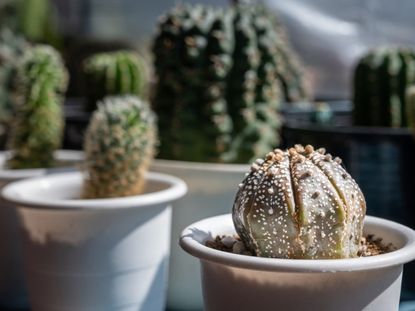 (Image credit: Boyloso)
When you think of cacti and other succulents, you probably think of dry, sandy, desert conditions. It's hard to imagine that fungal and bacterial rots could grow in such dry conditions. Actually, cacti are susceptible to a number of rot diseases, just like any other plant. While oftentimes cactus rot diseases are caused by too much water and humidity, this article will specifically discuss Erwinia soft rot in cactus plants.
Erwinia Soft Rot in Cactus
Erwinia carotovora bacterium is a bacteria caused by the soft rot of cacti. Bacterial soft rots affect many other plants besides cacti and succulents. In fact, soft rot contributes to major crop failure of many vegetables. Plants with calcium deficiencies are specifically at risk. Erwinia carotovora is also known as Pectobacterium carotovia.
Erwinia soft rot in cactus plants is caused by bacteria entering wounds or natural openings of the plant. Wounds can be from insect damage, pet damage, accidentally knocking the plant with gardening tools, etc. On cactus plants, it will take at least a week for a wound to scab over, depending, of course, on the size of the wound.
In humid, wet weather, cactus rot diseases can spread very quickly. The ideal temperatures for soft rot development are between 70 and 80 degrees F. (21-27 C.) with high humidity. Soft rot can affect any part of the cactus plant, including roots that have been damaged by transplanting, insects, or other pests.
Treating Rotting Cactus Plants
Soft rot of cactus plants can be spread to other plants by insects, dirty gardening tools, and moving of garden debris. It is important to always keep the garden free of possibly diseased garden debris and to thoroughly sanitize your garden tools between each use. Also, if a cactus plant develops a wound anywhere on it and from anything, treat the wound immediately with copper fungicide or a solution of bleach and water.
Cactus plants with soft rot may first appear to have watery-looking scabs on them. Then the plant tissues will turn brown to black in these spots. You may notice a foul-smelling seepage or discharge from these areas as well.
There is no cure for rotting cactus plants once it is showing these symptoms. The best way to handle Erwinia soft rot in cactus plants is to take preventative measures to avoid it. Clean wounds immediately and thoroughly, keep the plant dry and out of humidity, and once a year feed the cactus plant a fertilizer with a boost of calcium.
Gardening tips, videos, info and more delivered right to your inbox!
Sign up for the Gardening Know How newsletter today and receive a free download of our most popular eBook "How to Grow Delicious Tomatoes."