Calendula Oil Uses: Learn How To Make Calendula Oil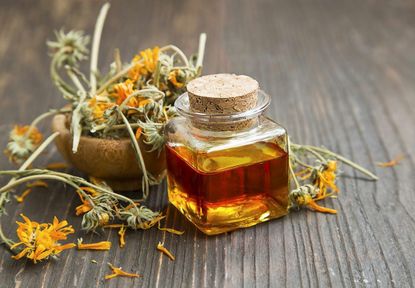 (Image credit: Catalina-Gabriela Molnar)
Also known as pot marigolds, the cheery yellow blooms of calendula are not just aesthetically pleasing, they are also a potent, medicinal herb. With their anti-inflammatory, antispasmodic, antiseptic, antibacterial, antimicrobial, and antifungal properties, calendula is certainly an important herb to have on hand. One of the simplest ways to take advantage of calendula's healing properties is by making calendula oil. Read on to learn how to make calendula oil for health and beauty.
About Homemade Calendula Oil Uses
Calendula is listed by the FDA as one of the safest herbs, safe enough to treat children. Its herbal uses include:
first aid for wounds, bug bites, and minor burns
skin care treatment (rosacea, eczema, dry skin, acne, etc.)
helps alleviate muscle aches, hemorrhoids, ulcers, and menstrual cramps
oral care
soothes sore throats
treats mites in pets
Calendula flowers can be used to make a natural makeup remover, hot oil hair treatments, and insect repellents. It is also being tested for use in cancer treatments. Its flowers are edible and can be added to salads, soups, and other dishes as a garnish, or can be made into a salad oil.
How to Make Calendula Oil
Making your own homemade calendula oil is a very simple process. When making calendula oil all you need is:
a pint size jar
dried calendula flower petals
carrier oil (olive oil, sunflower oil, sweet almond oil, grapeseed oil, avocado oil)
If you are making the oil for topical use only, you can also use jojoba oil, which is not edible. I, personally, have used sweet almond oil and was very happy with its effects on my skin and hair. There are two different ways you can make homemade calendula infused oils. The slower method is cold infusion, while the quicker method is heat infusion. For both methods, start by filling the jar half full of dried calendula petals. It is important to use the dried herb, as fresh petals will cause your infused oil to turn rancid. Next, pour the carrier oil into the jar and fill it just about a half inch or inch (1-2.5 cm.) above the dried petals. Dried herbs have a tendency to float at the top of the oil at first, so you may have to measure this from the bottom of the jar up. Now for the cold infusion method, you simply put the lid on the jar and let the calendula petals infuse in the oil for about four weeks, shaking the mixture at least once a day. For heat infusion, put the lid on the jar, then place the jar in a saucepan or crockpot with water. Heat this on low for one to five hours, until you see the herb infused oil take on a rich yellow color. When your calendula has infused the oil, strain out the dried herbs. You can save these herb remnants for homemade soaps if you would like. When stored in the refrigerator, herbal infused oils have a shelf life of about one year.
Growing Calendula for Oil
Calendula is a very easy plant to grow. It can be grown in flowerbeds, where it will readily reseed itself, or in pots (hence its common name pot marigold). Calendula grows in average soil with good drainage and needs very little care or maintenance. Petals can be harvested throughout the growing season and dried for use in homemade calendula oil. Since calendula is an annual, when growing calendula for oil, you should leave some flower heads on the plant to allow it to reseed itself.
Gardening tips, videos, info and more delivered right to your inbox!
Sign up for the Gardening Know How newsletter today and receive a free download of our most popular eBook "How to Grow Delicious Tomatoes."