Five Spot Winter Care – Does Five Spot Grow In Winter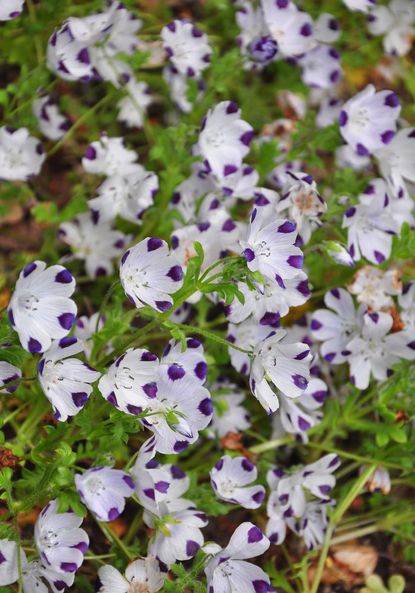 (Image credit: rbiedermann)
Five spot (Nemophila spp.), also known as buffalo eyes or baby eyes, is a small, delicate-looking annual that is native to California. The five white petals, each containing one purple spot, and light green, airy foliage of five spot plants have been a beloved addition to rock gardens, beds, borders, containers, and hanging baskets since Victorian times. When provided with cool temperatures and moist but well-draining soil, five spot will put on a long display. However, it can struggle and die back in the intense heat of summer. Growing five spot in winter and autumn can ensure bountiful blooms when many other plants are just starting or fading out. Read on to learn more about five spot winter care.
Does Five Spot Grow in Winter?
Although five spot plants are not frost tolerant, they are grown as annuals around the world in any hardiness zone. In their native regions, five spot plants put on a spectacular display of blooms in winter and spring, then in summer they set seed and dieback. In the cooler temperatures of autumn, the seed germinates and the process starts anew. In areas with climates like California, gardeners can mimic nature and grow five spot throughout the winter. In cooler climates, five spot seeds can be started in spring, in cold frames or directly in the garden when the danger of frost has passed. Their seed germinates best when exposed to full sun and when temperatures range steadily between 55-68 F. (13-20 C.). Five spot plants can grow in full sun to shade. However, they will survive the heat of summer best if provided with shade from the afternoon sun.
Five Spot Winter Care
Five spot seed will happily self-sow in the right site and climate. In cool, moist soil, seeds will germinate in just 7-21 days. In climates like California, gardeners really just need to plant some five spot plants, water, and let it do its thing season after season. Seeds can also be planted in succession so new plants will be blooming as others go to seed and dieback. For succession plantings in warm climates, sow seed throughout autumn, and in cooler climates, begin sowing in spring after the danger of frost has passed. While five spot does best when the seeds are planted directly in the garden, they can be started indoors, in greenhouses, or in cold frames during winter so northern gardeners can enjoy a long bloom season as well. Five spot plants like moist soil but cannot tolerate wet conditions. In warm regions with heavy winter rains, planting them in containers or baskets under a porch or overhang may help you grow five spot in winter.
Gardening tips, videos, info and more delivered right to your inbox!
Sign up for the Gardening Know How newsletter today and receive a free download of our most popular eBook "How to Grow Delicious Tomatoes."