Learn More About Tree Roses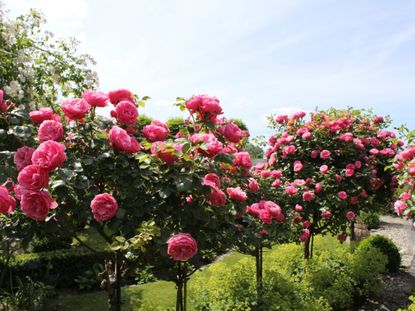 (Image credit: Angelique Nijssen)
Tree roses (aka: Rose Standards) are a creation of grafting by using a long rose cane with no foliage. Read on to learn more.
Tree Rose Info
A hardy rootstock such as Dr. Huey is trained up to provide the "tree trunk" for the tree rose. A rose bush of the desired variety is grafted to the top of the cane. The David Austin tree roses are created using Dr. Huey rootstock with three of the desired rose bush buds grafted onto each 3-foot (1 m.) cane stem. The folks at Jackson & Perkins tell me that they use an aggressive fibrous rootstock for their tree roses that they developed, and it is called "RW." Just as many rose bushes in the hybrid tea, floribunda, and grandiflora varieties are grafted onto hardier rootstock, these same roses may be grafted onto the foliage of bare rose cane to give it the beautiful top cluster of blooms. The 24-inch (61 cm.) tall tree roses have two rose bushes grafted to the top of the cane and the 36-inch (91.5 cm.) tree roses have four grafts at the top making for an awesome display. Many miniature rose bushes that would typically be grown on their own root systems are available as grafted tree roses as well. Tree roses are very popular and can be very attractive in the garden or in the landscape design. The beautiful rose bush elevated on top of the "tree trunk" definitely puts that beauty closer to eye level. Especially in the case of some miniature roses, which are lower-growing rose bushes.
Care of Tree Roses
One drawback to tree roses is that they are not typically cold climate hardy. Even with some extensive protection, most will not make it through the winter in cold climates if planted in the garden or landscape. My recommendation in cold climates would be to plant the tree roses in big pots and place them in the garden or landscape area, knowing that they will need to be moved into the garage or other protected areas for the winter. The other option in cold climates might be to treat them as annuals, knowing that they will need to be replaced every year, thus just enjoying their beauty during the actual growing season. The folks at Bailey Nurseries Inc. tell me that some of the hardier Parkland and Explorer series shrub roses are being grafted onto Rosa rugosa hybrids as well. This may well improve the winter hardiness issues for cold climate rose lovers. Tree roses make spectacular displays in pots setting around the deck, patio, or porch. Using them in this way allows one to move them around for different appearances depending on the event you may be hosting on your deck, patio, or porch. (Having them in pots makes it easier to move them in for the winter as well.) In warm to hot climates, it is recommended that the trunk portion be protected, as it can be subject to sunscald. Wrapping the "trunk" portion of the tree rose with a tree wrap will help protect the young trunk portion of your tree rose from the sun's intense rays. Some information available on tree roses states that the roses are grafted to a hardy, young apple or another fruit tree stock. That information simply is not true according to my research with the rose growers and hybridizers currently creating the tree roses on today's market.
Gardening tips, videos, info and more delivered right to your inbox!
Sign up for the Gardening Know How newsletter today and receive a free download of our most popular eBook "How to Grow Delicious Tomatoes."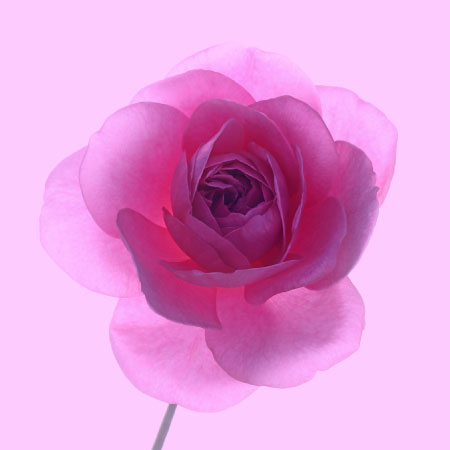 Stan V. Griep contributed to Gardening Know How for many years. An American Rose Society Consulting Master Rosarian in the Rocky Mountain District, he served as Gardening Know How's in-house expert on all things roses.