Yucca Plants In Cold Weather - Helping Yuccas With Frost Damage and Hard Freeze Damage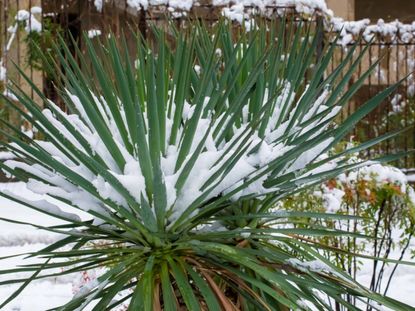 (Image credit: Olga Babchenko)
Some varieties of yucca can easily withstand a hard freeze, but other tropical varieties can suffer severe damage with only a light frost. Even hardy varieties can have some damage if where you live is getting fluctuating temperatures.
Protecting Yuccas from Frost Damage
The best way to help a yucca during cold weather is to make sure that as little damage as possible happens to the yucca plant during a frost or freeze. Cold-sensitive yuccas must be protected to avoid damage from frost and cold weather. Hardy yuccas may need protection if the weather has been warm and an unexpected cold spell happens quickly. The yucca plant has not had time to prepare itself for the freezing weather and may need protection for a little while until it hardens up some. To protect your yucca from cold, start by covering it with a cloth sheet or blanket. Try to avoid using synthetic material and NEVER use plastic directly touching the plant. Plastic touching the yucca during cold weather will damage the plant. If you are expecting wet conditions, you can cover your yucca with a sheet and then cover the sheet with plastic. If you are expecting more than a light frost, you will need to take further steps to protect your cold sensitive yucca. Wrapping the yucca plant in non-LED Christmas lights or placing an incandescent 60-watt bulb in the yucca before covering will help keep the cold at bay. Placing gallon jugs of hot water at the base of the plant before covering will also help keep the temperatures higher overnight. In colder weather, multiple layers or thicker blankets may be called for to help keep the temperature stable for the yucca plant. Snow damage is another concern for yucca plants. To protect from snow damage, a makeshift cage of chicken wire can be set up around the yucca and then covered with a cloth to prevent snow buildup on the plant.
Dealing with Frost Damage, Freeze Damage, and Snow Damage on Yucca Plants
Despite your best efforts, yucca plants in cold weather may suffer cold damage, particularly if your cold snap is longer than a day or two. Frost damage on yuccas typically will affect the leaves. The leaves on frost damaged yuccas will at first appear brighter or blackened (depending on how severe the initial damage) and will eventually turn brown. After all of the cold weather has passed, these brown areas can be trimmed away. If the whole yucca leaf has turned brown, the whole leaf may be removed. Freeze damage and snow damage on a yucca is more difficult to deal with. Often, freeze damage will make the stems go soft and the yucca plant may lean or fall over. You will need to determine if the yucca plant is still alive. If it is, it will regrow its leaves from either the top of the stem or will grow offshoots from below the damaged area, depending on how damaged the yucca is from the frost. Snow damage is often broken or bent leaves and stems. Broken stems should be trimmed cleanly. Bent stems and leaves should be left until warmer weather to see how bad the damage is, if the yucca can recover, and if trimming will be required. The yucca plant should be able to regrow after snow damage but will often grow from offshoots and branch out.
Gardening tips, videos, info and more delivered right to your inbox!
Sign up for the Gardening Know How newsletter today and receive a free download of our most popular eBook "How to Grow Delicious Tomatoes."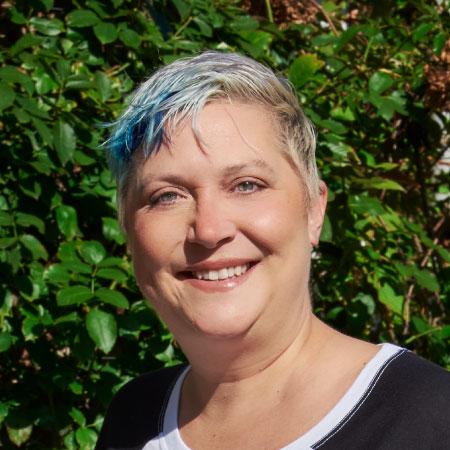 Founder of Gardening Know How
Heather Rhoades founded Gardening Know How in 2007 and built it up to what it is today.