Cold Hardy Palms: Cold Hardy Tropical Trees For The Landscape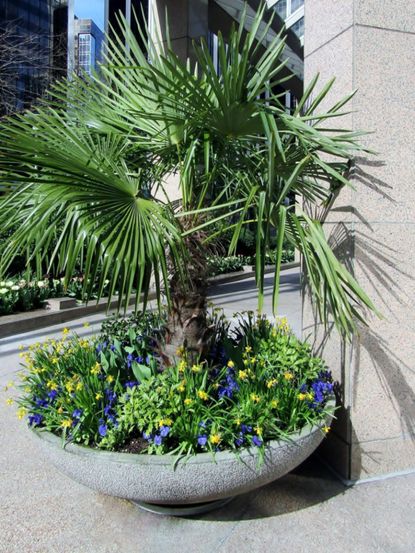 (Image credit: Irina274)
Just looking at a tropical tree makes most people feel warm and relaxed. However, you don't have to wait for your vacation south to admire a tropical tree, even if you live in a northerly climate. Cold hardy, tropical trees and plants can give you that "island" feel all year long. In fact, a few cold hardy palms will grow as far north as USDA plant hardiness zone 6, where winter lows dip to -10 F. (-23 C.).
Cold Hardy Tropicals for the Landscape
Winter hardy palm trees and tropical plants add interest and color to the landscape and require very little maintenance once they are planted. Some good choices for winter hardy palm trees and tropicals include:
Needle Palm - The needle palm (Rhapidophyllum hystrix) is an attractive understory palm that is native to the Southeast. Needle palms have a clumping habit and deep green, fan-shaped leaves. Needle palms can withstand temperatures down to - 5 F. (-20 C.). Unfortunately, this palm has become endangered because of increasing development.
Windmill Palm - One of the most reliable of the cold hardy palms is the windmill palm (Trachycarpus fortunei). This palm grows to a mature height of 25 feet (7.5 m.) and has fan-shaped leaves. Attractive when used in groups of three to five, the windmill palm can survive temperatures as low as -10 F. (-23 C.).
Dwarf Palmetto - Also known as the Sabal minor, this little palm grows up to 4 to 5 feet (1-1.5 m.) and makes a perfect large container plant or group planting. Fronds are wide and greenish blue. Commonly found in woodland areas of southern Georgia and Florida, this palm is unharmed in temperatures as low as 10 F. (-12 C.).
Cold-Hardy Banana Trees - Banana trees are fun to grow and make an attractive landscape plant or cheery addition to a sunroom. The Basjoo banana is the most cold-tolerant banana tree in the world. This ornamental fruit tree will grow up to 2 feet (61 cm.) per week during the summer when planted outdoors, reaching a maximum of 16 feet (5 m.) at maturity. Indoors it will grow to up to 9 feet (2.5 m.). Brilliant leaves measure up to 6 feet (2 m.) long. This hardy banana tree can withstand temperatures down to -20 F. (-28 C.) if given plenty of mulch for protection. Although leaves will fall off at 28 F. (-2 C.), the plant will rebound quickly once temperatures warm up in the spring.
Caring for Cold Hardy Tropical Trees
Most hardy tropicals require little care once they are planted. Mulch provides protection from extreme weather and helps with moisture retention. Choose plants that are suitable for your growing region for the best results.
Gardening tips, videos, info and more delivered right to your inbox!
Sign up for the Gardening Know How newsletter today and receive a free download of our most popular eBook "How to Grow Delicious Tomatoes."