What Is A School Garden: How To Start A Garden At School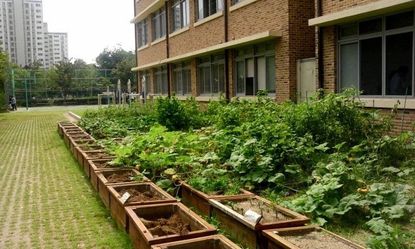 (Image credit: Cali4beach)
School gardens are popping up in academic institutions all over the country, and their value is quite evident. No matter whether it is a large garden or a small window box, children can learn valuable lessons from hands-on interaction with nature. Not only do school gardens teach children about the importance of environmental stewardship, but they are also beneficial for experiential learning in a number of disciplines including social sciences, language arts, visual arts, nutrition, and math.
Learn More About our School Garden Sponsorship Program
What is a School Garden?
There are no hard and fast rules when it comes to creating school gardens, however, many gardens take on a theme of some kind. A school may have several smaller garden sites, each with their own theme such as:
Or even a combination of these, depending on the objectives for the garden site.
A school garden is usually organized by a group of interested teachers, administrators, and parents who agree to take responsibility for the overall upkeep of the garden site.
How to Start a Garden at School
Starting a school garden for children begins with forming a committee of dedicated individuals. It is best to have a few people who are familiar with gardening on the committee as well as individuals who can organize fundraisers or rally financial support for the project.
Once your committee is formed, it is time to define the overall objectives of the garden. Questions pertaining to how the garden should be used may be asked, as well as what learning opportunities the garden will provide. These objectives will allow you to create lesson plans related to the garden, which will be a valuable resource for teachers.
Consult your garden experts for the best site to place your garden and don't forget about things like a small storage shed for tools, visibility, drainage, and sunlight. Draw the garden design and make a list of all of the supplies needed, including the types of plants and hardscape elements that you wish to include in your garden.
Consider asking local businesses, especially gardening related businesses, for help with obtaining free or discounted materials and plants. Don't forget to organize summer care for the garden when the children are not in school.
Learning More About School Gardens
There are numerous online resources that can help you plan your school garden. It is always best to visit a school garden that is operational so that you can get some ideas and tips for construction and maintenance.
Additionally, you can consult your local Cooperative Extension Office. They are always happy to provide a list of resources and may even wish to be a part of your school garden project.
Gardening tips, videos, info and more delivered right to your inbox!
Sign up for the Gardening Know How newsletter today and receive a free download of our most popular eBook "How to Grow Delicious Tomatoes."