This Expert Trick To Stop Terracotta Pots Cracking Is So Simple: Winterize Your Pots Now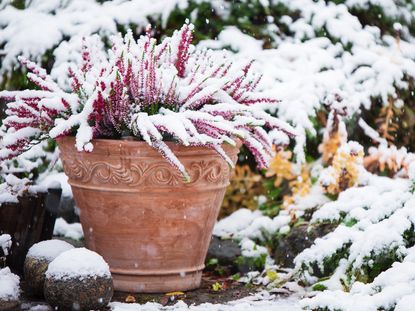 (Image credit: Eerik)
Terracotta is such a classic choice for garden pots. It has been used in pottery for millennia, and today there are designs available to suit all styles and budgets.
The pots' warm, earthen color palette is due to the type of clay used to make them. Though terracotta looks great when new, it gets even better with age. Over time, pots develop a mellow patina that adds character to the garden, and perfectly complements foliage and flowers.
The word terracotta literally means 'baked earth' in Italian. Originally pots were baked in the sun or an open fire, and today the manufacturing process is still very simple. This makes it low energy and sustainable.
However, while using terracotta plant pots has many benefits, the material also has a reputation for cracking in frosty weather. This eventually results in them breaking.
Why do terracotta pots crack in the winter?
Terracotta is by its nature a porous material, which means pots absorb water from the soil within. While this quality can be beneficial for certain plants during the summer months, it is less desirable in winter.
When the pot is filled with wet soil and temperatures plummet, the soil can freeze along with the water stored in the terracotta. This causes the moisture to expand, which can crack the pot.
Practice good winter container care by looking after both your plants and your pots.
How do you keep terracotta pots from cracking in winter?
Traditionally, the advice has been to either move terracotta pots to a sunny spot indoors – which can be impractical as they are heavy when planted – or to insulate them with bubblewrap, which looks unattractive.
However, gardening expert and writer Leigh Clapp has this clever trick: 'When planting your containers, simply place a plastic pot inside the terracotta pot,' she says.
'This avoids it cracking in winter because it retains all the moisture instead of it absorbing into the clay.'
You just need to use a plastic pot that fits comfortably inside the terracotta pot, with only a small gap around the edge.
You can reuse an old plastic pot that came with another plant. Or, if you don't already have a stock of these, then you can source one cheaply – or even for free – from a garden center or nursery.
To further aid drainage, add some shale or broken terracotta to the base of the main pot.
While Leigh's tip will minimize your pots' risk of cracking, it has another benefit too: 'It also means the lighter pot can be moved or replaced more easily,' she says.
This means that you can use the same terracotta pot to display perennial plants or bulbs in different seasons. Simply swap out the plastic plant pot each time.
And, if you are still worried about protecting a fine terracotta pot, then it's much easier to take your plant out. You can opt to move the empty pot to a dry, frost-free spot over winter.
Is there anything else I can do to stop my pots cracking?
The most effective way to stop your terracotta pots cracking is to move them indoors during winter. This may be necessary when overwintering container plants that are more delicate. However, there are some other things you can do to minimize the risk:
1. Raise up pots
Allowing terracotta pots to fully drain after getting wet will reduce the amount of water in the pot. Therefore, when freezing occurs, expansion is minimized.
'Use special pot feet – available from garden centers – or bricks to raise containers off the ground for good drainage,' says Matt James, a garden designer, horticulturist, and author of How To Plant A Garden.
'This way, pots won't sit in standing water and crack in severe frosts.'
2. Add insulation to pots
'If leaving terracotta pots outside over winter, covering the outside of the pot with bubble wrap will provide some protection from frosts.' says Emma Hardy, author of The Winter Garden.
However, as bubblewrap is not the most attractive option for covering your pots, Emma has a solution to conceal it: 'Wrap the pot in a piece of burlap or hessian, tied with a length of twine or raffia.'
3. Buy 'frost-proof' pots
Where possible buy pots with a frost-proof guarantee. These offer better protection, sometimes due to the blend of clay used, but mainly due to having been fired to a higher temperature. This makes the material less porous.
However, in the coldest of winters even frost-proof pots can sometimes be vulnerable, so it's still sensible to take preventative measures.
4. Source vintage pots
Instead of buying brand new pots, look out for secondhand ones that have been used in local gardens.
'The advantage of buying an older piece for the garden is that you know it won't crack during the first frost,' says Rupert Cleaver from The Vintage Garden Company.
'If it's already survived several or even decades of winters, then it's likely to last a long time to come.'
Gardening tips, videos, info and more delivered right to your inbox!
Sign up for the Gardening Know How newsletter today and receive a free download of our most popular eBook "How to Grow Delicious Tomatoes."