Growing Onions In Container Gardens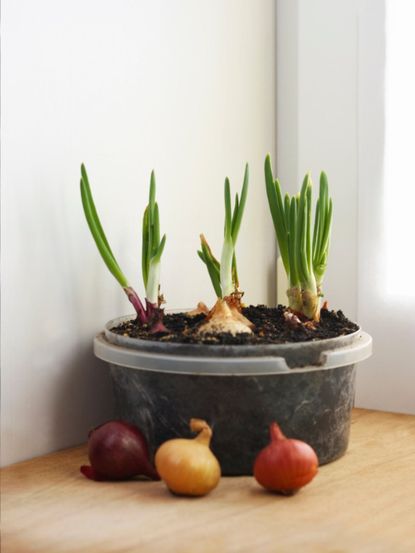 (Image credit: Ozii45)
Many people would love to grow onions, but due to a small garden or perhaps no garden at all, they just don't have the space. There is a solution though; they can try growing onions in container gardens. Growing onions in containers allows you to be growing onions indoors or in a small space in your backyard.
How to Grow Onions in Container Gardens
The way to grow onions in container gardens is much like growing onions in the ground. You need good soil, adequate drainage, good fertilizer, and plenty of light. Read this article on growing onions for more information on basic onion care. Really, the only difference between what you do when you grow onions in the ground and when you grow onions in pots is choosing the container you'll be growing them in. Since you need several onions planted to get a decent crop, attempting to grow onions in pots that are only 5 or 6 inches (13-15 cm.) wide would be cumbersome. If you choose to grow onions in pots, choose a large mouthed pot. It needs to be at least 10 inches (25 cm.) deep, but should be several feet (1 m.) wide so that you'll be able to plant enough onions to make it worth your while. Many people have success growing onions in a tub. Plastic tubs are much cheaper than a comparable sized pot, therefore, growing onions in a tub is economical and efficient. Just make sure that you put holes in the bottom of the tub to provide drainage. You can also grow onions in 5 gallon (19 L.) buckets, but realize that you may only be able to grow three or four onions per bucket as onions need at least 3 inches (8 cm.) open soil around them to grow properly.
Choosing a Location for Growing Onions in Containers
Whether you decide to grow onions in a tub or in pots, it's essential that you put the onion container somewhere that gets six to seven hours of light. If you are growing indoor onions and don't have a location with adequate sunlight, you can supplement the light with fluorescent bulbs set close to the onions. A shop light on an adjustable chain makes an excellent grow light for people growing indoor onions.
Remember to Water Your Potted Onions
Water is important to growing onions in container gardens because your container onions will have little access to naturally stored rainfall from surrounding soil like onions grown in the ground do. Onions grown in containers will need at least 2 to 3 inches (5-8 cm.) of water a week, perhaps even more in hot weather. Check your onions daily and if the top of the soil is dry to the touch, give them some water. Just because you have limited space doesn't mean that you need to limit what you grow. Growing indoor onions or growing onions in a tub on the patio is fun and easy. Now that you know how to grow onions in container gardens, you have no excuse not to.
Gardening tips, videos, info and more delivered right to your inbox!
Sign up for the Gardening Know How newsletter today and receive a free download of our most popular eBook "How to Grow Delicious Tomatoes."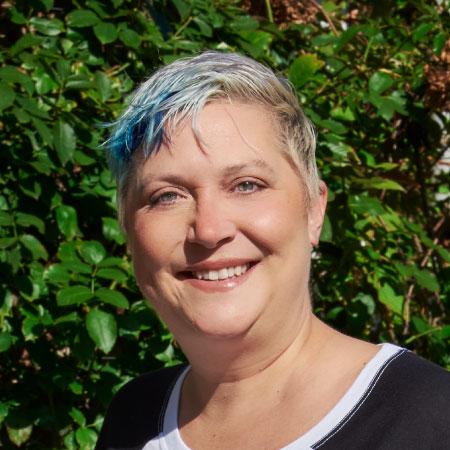 Founder of Gardening Know How
Heather Rhoades founded Gardening Know How in 2007 and built it up to what it is today.