Growing Garlic - How To Plant And Grow Garlic In Your Garden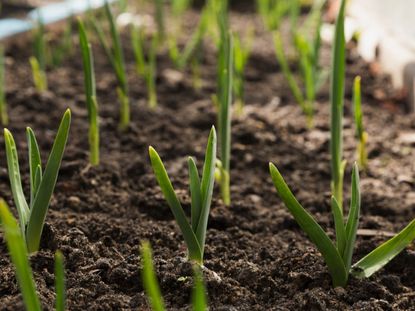 (Image credit: <a href='https://www.istockphoto.com/photo/plant-garlic-gm694909692-128438401'>fotografermen, iStock</a>)
Growing garlic (Allium sativum) in the garden is a great thing for your kitchen garden. Fresh garlic is a great seasoning. Let's look at how to plant and grow garlic.
How to Grow Garlic
Growing garlic needs cool temperatures. Plant hard-neck garlic in the fall. Where there are cold winters, you can plant the garlic four to six weeks before the ground freezes. In milder winter areas, plant your garlic through winter but before February.
How to Plant Garlic
Follow these steps for growing garlic:
1. Unless your soil is naturally loose, add a lot of organic matter like compost or well-aged manure.
2. Separate the garlic bulb into individual cloves (just like you do when cooking but without peeling them).
3. Plant garlic cloves about an inch (2.5 cm.) deep. The fatter end that was at the bottom of the bulb should be at the bottom of the hole. If your winters are colder, you can plant the pieces deeper.
4. Space your cloves 2 to 4 inches (5-10 cm.) apart. Your rows can go 12 to 18 inches (31-46 cm.) apart. If you want bigger garlic bulbs, you can try spacing cloves on a 6 inch (15 cm.) by 12 inch (31 cm.) grid.
5. While the plants are green and growing, fertilize them, but stop fertilizing after they begin to "bulb-up." If you feed your garlic too late, your garlic won't go dormant.
6. If there isn't much rain in your area, water the garlic plants while they are growing just as you would any other green plant in your garden.
7. Your garlic is ready to harvest once your leaves turn brown. You can start checking when five or six green leaves are left.
8. Garlic needs to cure before you store it anywhere. Make sure to bundle eight to a dozen together by their leaves and hang them in a place to dry.
Now that you know how to grow garlic, you can add this tasty herb to your kitchen garden.
Gardening tips, videos, info and more delivered right to your inbox!
Sign up for the Gardening Know How newsletter today and receive a free download of our most popular eBook "How to Grow Delicious Tomatoes."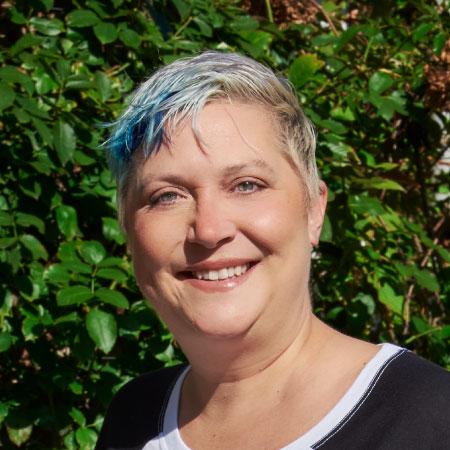 Founder of Gardening Know How
Heather Rhoades founded Gardening Know How in 2007 and built it up to what it is today.