Sweet 100 Tomato Care: Learn About Growing Sweet 100 Tomatoes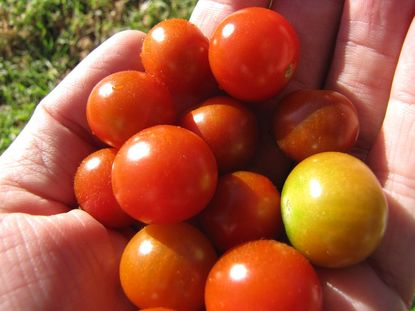 (Image credit: Forest and Kim Starr)
As an avid tomato gardener, each year I like to try growing different tomato varieties that I have never grown before. Growing and using different varieties not only lets me try out new gardening tricks and techniques, but also allows me to experiment in the kitchen with new culinary scents and flavors. However, while I love all this experimentation, I always leave space in the garden for my all-time favorite tomato plants, like Sweet 100 cherry tomatoes. Read on for helpful tips on growing Sweet 100 tomatoes.
What are Sweet 100 Cherry Tomatoes?
Sweet 100 tomato plants produce red cherry tomatoes on indeterminate vining plants that may grow 4-8 feet (1.2 to 2.4 m.) tall. These vines produce high yields of fruit from early summer right up to frost. The high yields are indicated by the "100" in their name. However, this does not mean that the whole plant itself will only produce about 100 fruit. Instead, just one cluster of fruit on the plant can produce up to 100 cherry tomatoes, and the plant can produce many of these tomato clusters.
With just one bite of a Sweet 100 cherry tomato, it is easy to see why "sweet" is also in its name. These cherry tomatoes are ranked as one of the best for snacking, even right off the vine. In fact, one of their nicknames is "vine candy." Sweet 100 tomatoes are excellent for using fresh in salads. They are also versatile enough to be used in recipes, stewed, canned, and/or frozen. Whichever methods they are prepared, Sweet 100 tomatoes retain their sweet, sugary flavor. They are also high in Vitamin C.
How to Grow a Sweet 100 Tomato Plant
Sweet 100 tomato care is no different than that of most any tomato plant. The plants will grow best in full sun. Plants should be spaced about 24-36 inches (61-91.5 cm.) apart and generally mature in about 70 days. Because these vines become so laden with fruit, growing Sweet 100 tomatoes on a trellis or fence generally works best, but they can be staked or grown in tomato cages as well.
In my own garden, I have always grown my Sweet 100 tomatoes right by the steps of my back porch. This way, I can train the vines to grow upon the step and porch railings, and I can also very easily harvest handfuls of the ripened fruit for a quick refreshing snack or salad. To be perfectly honest, I rarely walk past these plants without sampling a ripened fruit.
Sweet 100 tomatoes are resistant to both fusarium wilt and verticillium wilt. The only complaint with these cherry tomatoes is that the fruit has a habit of cracking, especially after heavy rains. To prevent this cracking, do not let fruits over-ripen on the vine. Pick them as soon as they ripen.
Gardening tips, videos, info and more delivered right to your inbox!
Sign up for the Gardening Know How newsletter today and receive a free download of our most popular eBook "How to Grow Delicious Tomatoes."