Zone 9 Rose Care: Guide To Growing Roses In Zone 9 Gardens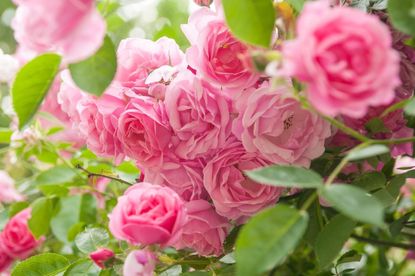 (Image credit: hrabar)
Gardeners in zone 9 are lucky. In most places, roses will bloom only during two or three seasons of the year. In zone 9, though, roses can bloom year-round. The flowers may actually even be larger and more intensely colored during the zone 9 winter. So, what roses grow in zone 9? The answer is almost all of them. However, you do need to consider your soil type, humidity, and whether you get salt spray from the ocean in coastal regions.
Choosing Rose Bushes for Zone 9
When planning your rose garden, first choose a rose type that fits your lifestyle. Old garden roses are among the easiest to grow, but most only bloom once per year. By contrast, hybrid tea roses and other formal roses require more maintenance. They need proper pruning and fertilization, and they are prone to fungal diseases like black spot, Cercospora leaf spot, and powdery mildew, so you'll need to spray with fungicides to keep them looking their best. Cultivars "Mrs. B.R. Cant" and "Louis Phillippe" are great low-maintenance zone 9 roses. Knock Out® roses are another very reliable option that tolerates the heat of a zone 9 summer. They combine the ease of care of old garden roses with the long bloom period of more modern roses. There are many formal rose bushes for zone 9. Margaret Merril® Rose, a white floribunda, is very fragrant and blooms year-round in warm to hot climates. Climbing Romantica® rose "Red Eden" and "Madame Alfred Carriere" grow well in dry parts of zone 9 with the intense summer heat. Many other options are available, so check out a local garden store for more ideas.
Growing Roses in Zone 9
In zone 9, rose care involves proper site selection and maintenance. Roses need at least six hours of sun every day, and they require well-drained soil with a significant amount of organic matter to be healthy. Amend the soil with compost, peat, or well-rotted manure to increase the level of organic matter. This is especially important if you have sandy soil or live in a dry climate. Plant roses in raised beds if your soil is poorly drained. To keep formal roses healthy, water them weekly, deadhead to remove all spent flowers, and spray with fungicides as recommended for the variety. Formal roses in zone 9 should be fertilized once a month from early spring to late fall and pruned in the spring. Many roses will grow larger in zone 9 than they will in cooler regions. Give them extra space to grow, and plan to prune more frequently if you want to keep them smaller. In coastal parts of zone 9, like Florida, be sure your water supply is suitable for growing roses. They cannot tolerate water with more than 1800 ppm of salt. Also, consider salt spray: beach rose (Rosa rugosa) and Flower Carpet roses are the best choices for gardens exposed to salt spray. Most other roses should be planted in sheltered locations where exposure to salt spray will be lessened. For more difficult conditions, select a rootstock that does well in your region within zone 9. For example, Fortuniana rootstock is excellent for grafted roses in Florida conditions, while Dr. Huey rootstock also produces acceptable results.
Gardening tips, videos, info and more delivered right to your inbox!
Sign up for the Gardening Know How newsletter today and receive a free download of our most popular eBook "How to Grow Delicious Tomatoes."