What Are Harlequin Bugs: How To Get Rid Of Harlequin Bugs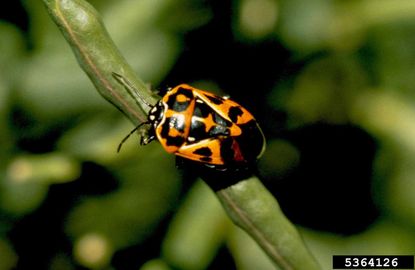 (Image credit: Whitney Cranshaw, Colorado State University, Bugwood.org)
There are many helpful bugs in the garden that put a spring in the step of any gardener lucky enough to have them as guests, but the red and black harlequin bug is not among them. Although beautiful, this bug is treacherous, making harlequin bug control a vital part of vegetable garden management.
What are Harlequin Bugs?
Harlequin bugs (Murgantia histrionica) are 3/8 inch (1 cm.) long, shiny stinkbugs and significant pests of crucifers like cabbage, broccoli, and mustard feeding greedily on the nutritious juices inside the leaves of these plants. When crucifers are unavailable, you may find harlequin bugs sucking the life out of your squash, beans, corn, asparagus, okra, or tomatoes. Harlequin bug damage appears on stems and leaves, depending on the species of plant attacked. The puncture sites will develop cloudy, discolored spots; older plants may become stunted as the feeding pressure from harlequin bugs increases. Young plants may wilt and brown and often die if feeding pressure is high.
Life Cycle of Harlequin Bugs
It's important to understand the life cycle of harlequin bugs if you're going to control them; after all, working with their nature is much easier than fighting against it. Harlequin bug control should focus on breaking their life cycle whenever possible, rather than just throwing pesticides at them randomly. Adult harlequin bugs emerge from their wintering spots under fallen leaves and other plant debris in early spring. For about two weeks, females feed voraciously before laying their black and white barrel-shaped eggs in groups of 10 to 13, arranged neatly in double rows. This first clutch of eggs may take up to 20 days to hatch, but eggs laid in warmer weather can hatch in as few as four days. After feeding for six to eight weeks, nymphs reach adulthood and begin seeking mates of their own. A total of four generations are possible each year, with the final generation surviving the winter as adults insulated by organic debris. There are fewer generations in cooler climates, since harlequin bugs mature more slowly in less than ideal temperatures.
How to Get Rid of Harlequin Bugs
At the end of each gardening season, make sure to plow all plants and fallen debris under, to rob the harlequin bugs of much-needed cover. This will probably not destroy all the bugs, but will put a dent in adult populations. Watch for them to become active as temperatures climb-- pick insects off individually and drop them into a bucket of soapy water. Once you notice adults, start checking for their eggs on the undersides of leaves. When you find them, scrape them into the same bucket you're using for adults or crush them. If any of the eggs look like they've hatched, check your plants carefully for small, round, yellowish nymphs with red eyes. At this stage, insecticidal soap is excellent for harlequin bug control, but as nymphs mature, it will become less useful. Adults can be killed with spinosad, but it may take a few days for full effect. Although it's not labeled for harlequin bug control everywhere, studies at Oklahoma State University have shown spinosad to be among the most effective, least toxic harlequin bug controls.
Gardening tips, videos, info and more delivered right to your inbox!
Sign up for the Gardening Know How newsletter today and receive a free download of our most popular eBook "How to Grow Delicious Tomatoes."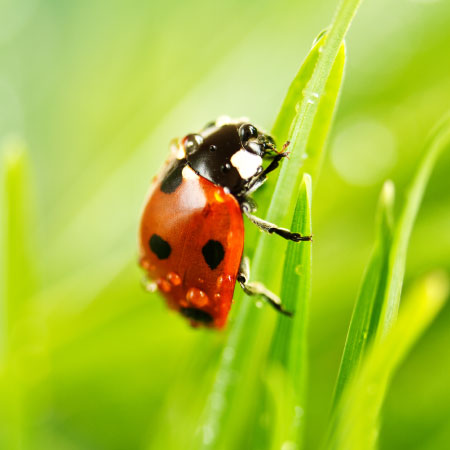 Kristi Waterworth was a regular contributor to Gardening Know How for many years, answering countless queries on plant pests and diseases.