Hands-On Learning Tips For Kids – Creative Ways To Teach Gardening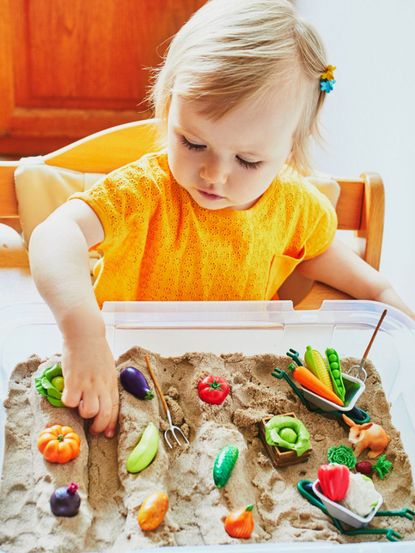 (Image credit: encrier)
So, you're an avid gardener with young kids running around. If gardening is your favorite pastime and you're curious about how you can pass on the green thumb to the youngsters, read on!
Teaching Garden Curriculum Ideas
Children learn through play. The best way to allow them to do this is by providing them fun and exciting hands-on activities that also stimulate all of their senses. If you want to get them curious and learn about gardening, give them fun activities related to just that.
Activities can include, but are certainly not limited to, things like sensory play, special snacks or cooking activities, outdoor games, arts and crafts, and so much more!
Teach Gardening by Playing Pretend
Dramatic play is a favorite type of play for young children and also very important for development. With this type of play they imitate things they see going on around them in their everyday life. To encourage them to learn about gardening, allow them to observe you in the garden and provide them with an area (it can be indoors, outdoors, or both) for dramatic play, garden themed.
Child-sized gardening tools are great for this. Provide gardening gloves, hats, miniature tools, aprons, empty seed packets, watering cans, plastic pots or other containers, fake flowers and let them imitate the act of gardening. You can even work together to create your very own DIY garden hat to wear outdoors.
Legos or other types of building blocks can be used to construct pretend garden beds or, if children are a little older, you can help assist them to build garden or window boxes out of wood materials. Other garden items that can be constructed or replicated include:
Greenhouses
Produce stands
Sensory and Science in the Garden
There are so many sensory bin ideas you can do for children to allow them to explore using their senses and get hands on with the garden theme. Give them their own container full of soil, some sticks, and rakes to create a garden. Use sand and rocks to make a Zen Garden. Let them actually dig and get their hands dirty, add seeds to examine and explore with, help them plant their own seeds, or add fresh smelling flowers.
Feeling textures of different materials and plants is very stimulating for sensory development. You can also talk about what types of plants are edible and even let them taste different things grown in the garden. Other ideas for a sensory bin include:
Adding different leaves to explore and identify
Adding mud, leaves, twigs, etc. for bird nest building
Containers of water for washing fresh produce
Dirt with insects to bury/dig up
Science in the garden can be as simple as exploring an old bird nest you find or broken eggshells, playing in mud and seeing what happens when mud sits out in the sun, or learning about garden helpers by exploring earthworms. Other simple science activities include:
Exploring the parts of an apple or cleaning out a pumpkin
Comparing fresh and dried fruits, leaves, or flowers
Using different pasta types to represent (along with discussing) the life cycle of a butterfly-- watching one hatch if possible
Observing different stages in a plant's life cycle within the garden
Arts and Crafts
One thing all children love to do is arts and crafts, so this hands-on learning is definitely going to engage them. You can paint rocks to make them look like ladybugs or flowers, make papier-mâché watermelons, use Play-Doh to either construct your own items or add garden themed cookie cutters.
One neat project is to make 3D flowers. Use cupcake liners, coffee filters, and large paper doilies. Color or design them however you want and then layer them (doily on bottom, coffee filter middle, and cupcake liner on top) with glue. Also glue on a stem and add leaves. Spray just a dab of floral perfume or air freshener and you have a beautiful, 3D scented flower.
More art crafts to try are:
Stuffed yarn leaves
Leaf tracing
Ink blot butterfly wings
Using outdoor chalk to decorate garden areas (washes off when it rains)
Plastic bottle bottoms to stamp flowers
Paper lettuce using green circles of various sizes
Garden Inspired Snacks
What kid doesn't love a good snack? You can even relate gardening into snack time or let the kids get hands-on with garden-themed cooking activities. Ideas to try:
Taste honey (relate to activity on bees)
Types of seeds you can eat
Vegetable soup or fruit salad from the garden
Taste parties to try various fruits, vegetables, or other edible plants that may be new to them
Picnic in the garden
Have "buggy snacks" with ants on a log/in the sand (raisins, celery, peanut butter, graham cracker), spiders (Oreos and pretzel sticks), butterflies (pretzel twists and celery or carrot sticks), and snails (celery, apple slices, pretzel pieces, chocolate chips, and peanut butter)
Make snacks for the birds and other garden wildlife
Other Ideas for Kids in the Garden
Just letting children get involved with watering plants or decorating their own pots can be enough to pique their interest in the gardening world. You can assist them with planting projects, there are several fun, kid-friendly planting projects out there. To name a few:
Grow and observe what happens with popcorn kernels in baggies
Grow in your name out of grass seed
Plant a pretty flower or make a butterfly garden with wildflowers
For St. Patrick's Day, grow some shamrocks
Grow a bean stalk
Encourage children to go on different types of "hunts" around the garden. You can go on an insect, color, clover/shamrock, flower, or leaf hunt. Count butterflies and bees and bring up pollination. The possibilities really are endless!
Of course, another great way to help children learn about gardening and expand their knowledge of the topic is by reading garden related books to them regularly and assisting them with reading as they get older.
Gardening tips, videos, info and more delivered right to your inbox!
Sign up for the Gardening Know How newsletter today and receive a free download of our most popular eBook "How to Grow Delicious Tomatoes."