Learn The Basic Elements Of An English Garden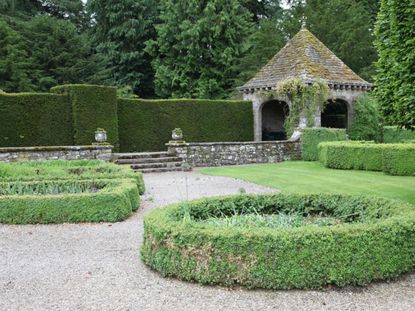 (Image credit: konstantin32)
Fragrant Earl Grey tea among the sweet blooming roses or lounging in the shade on a hidden garden bench- these scenes are what make the English garden so special and so loved around the world. Keep reading to learn more about the elements of an English garden so you can enjoy this garden too.
English Garden Info
The classic English garden may date as far back as the first century A.D. when the Roman conquerors invaded Britain. It is believed that this primitive English garden included symmetrical gravel walkways, carefully planted short hedges, park-like open lawn space, and a small kitchen garden with herbs and vegetables. In the Middle Ages, when the English garden appeared in our history once more, it still contained a carefully planted kitchen garden along with an outdoor "room" of sorts in which to play lawn games. Surrounded by tall hedges perfectly manicured, with a walkway usually leading around the lawn space, these outdoor rooms would become one of the defining features of the English garden. These formal landscapes often punctuated with raised flower beds were kept close to the house or castle, while the large amount of unused land surrounding the dwelling was often used to keep cattle or deer. Although the English garden has changed over the centuries, there are a few basic characteristics that you can replicate in your own garden to help add a little "English" to it.
Elements of an English Garden
When designing an English garden of your own, think perennials and annuals, herbs and vegetables, roses, shrubs, and grass. Whether you've got an acre of garden and lawn space or just a few square feet, these design elements are your first step toward creating that English garden space. Perennials- Perennials are the traditional flowers of choice for the English garden. Some of these include:
Annuals- Annual flowers are wonderful accompaniments to your perennials, particularly while the perennials are filling in, but don't let them steal the show. Here are a few popular choices to consider:
Herbs and vegetables- Herbs and vegetables are a natural part of the English garden and add gorgeous variety and usefulness to your backyard. Whether you choose to create a "room" specifically for your vegetables, herbs, and fruits or you mingle them into the flower beds along a walkway, the results will be simply delicious! Roses- Honestly though, what would an English garden be without roses? The delicate fragrance and appearance of the rose adds endless depth to the garden. Try installing a climbing rose along a trellis, arbor, or shed and watch the rose's beauty grow year after year. Or you might, in classic English style, choose to prune your roses to form the same shape every year, (e.g., Alice in Wonderland's Queen of Hearts' rose garden), perhaps bordering your lawn space or as a backdrop to an herb garden. Shrubs- Shrubs are a natural part of the English garden, as they help form the cozy garden rooms and add so much height variation and interest to the garden space. Whether it's a cluster of three blue hydrangeas in the center of your perennial garden room or a solid row of hedges forming the backdrop for your lawn party, shrubs can be so useful and sophisticated. Grass- The amount of grass that you decide to use in your English garden really just depends on how much mowing you desire to do and what you'll want to use the lawn area for. You really can't go wrong here.
Shaping the English Garden
As mentioned briefly before, shapes are an integral part of the English garden. In the Middle Ages, the shape of the garden rooms and planting beds may have been more rectangular and square. Currently, the fashion in English gardens is for soft, curving lines and winding paths. Again though, I believe it should be up to your taste. I personally like a nice square garden room bordered by flowers and herbs on all sides and large rectangular shrubs. My best friend's garden doesn't have a straight line to be found, however. Her perennial beds, filled with Asiatic lilies and lupines, curve and wind; you never know what you'll find around the next corner. It's really quite lovely and it suits her home and the surrounding grounds well. Another way you can add attractive shapes to your English garden is with topiary (shrubs or ivy manicured to a distinct shape such as a cone, pyramid, or spiral), concrete statues, birdhouses, or other ornaments. If you've chosen a soft, circular theme for your English garden, placing a simple concrete birdbath in the center would be an eye-catcher. Or if your garden has long straight lines like mine, you may want to add pyramid-shaped topiaries near the entrance for a more formal look. Regardless of which parts of the English garden you choose to replicate at home, you can be proud to be carrying on a centuries-old tradition in your own backyard. Don't forget the croquet!
Gardening tips, videos, info and more delivered right to your inbox!
Sign up for the Gardening Know How newsletter today and receive a free download of our most popular eBook "How to Grow Delicious Tomatoes."
Arista Hageman is a writer for Gardening Know How who specializes in flower gardening.