Tips For Growing Potatoes In Straw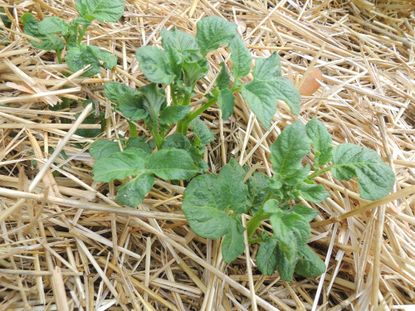 (Image credit: Gardening Know How)
If you want to grow potatoes in straw, there are proper, old-fashioned ways to do it. Planting potatoes in straw, for instance, makes for easy harvesting when they are ready, and you won't have to dig into the hard ground to get them.
You might be asking yourself, "How do I grow potatoes in straw?" First, you start by picking a garden area that gets full sunlight. You want the soil to be loose, so turn it over once and work in some fertilizer to help the potatoes grow.
Tips for Planting Potatoes in Straw
To grow a potato plant in straw, be sure the seed pieces and rows are spaced the same way they would be if you were to cultivate your potatoes the conventional way. However, the seed pieces are only planted on the surface of the soil when planting potatoes in straw.
After you plant the seed pieces, put loose straw over the pieces and between all the rows at least 4-6 inches (10-15 cm.) deep. When the seed pieces start growing, your potato sprouts will emerge through the straw cover. You don't have to cultivate around the potatoes when growing potatoes in straw. Just pull out any weeds you run across if they appear.
When you grow potatoes in straw, you'll see the sprouts quickly. Once they have grown 4 to 6 inches (10-15 cm.), cover them with more straw until only an inch (2.5 cm.) of the new growth shows through, then let the plants grow another 4 to 6 inches (10 to 15 cm.).
Growing potatoes in straw isn't difficult; they do all the work. Keep repeating this procedure for two or three more cycles. If there isn't much rain, be sure to water the plants regularly.
Harvesting Potatoes Grown in Straw
When growing potatoes in straw, harvest time is easy. When you see flowers, you'll know there will be small new potatoes under the straw. Reach in and pull some out! If you prefer bigger potatoes, growing potatoes in straw is a great way to get them. Simply let the plants die off, and once they die, the potatoes are ripe for the picking.
Planting potatoes in straw is a great way to grow potatoes because the straw helps keep the soil about 10 degrees F (5.6 C) warmer than it would be if it were exposed. Growing potatoes in straw is a wonderful, old-fashioned way of growing potatoes.
Follow the directions from your particular growing areas when you want to know when to plant potatoes in straw. Every area has a different growing cycle.
Gardening tips, videos, info and more delivered right to your inbox!
Sign up for the Gardening Know How newsletter today and receive a free download of our most popular eBook "How to Grow Delicious Tomatoes."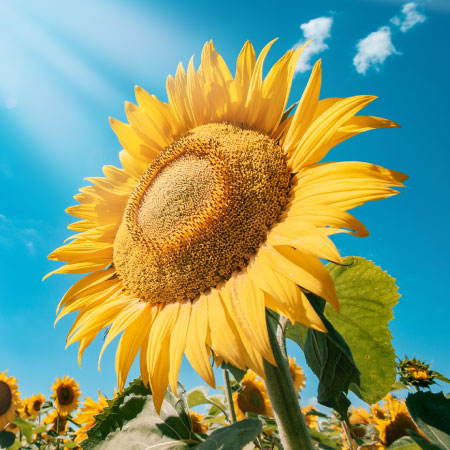 Kathee Mierzejewski was with Gardening Know How in the very beginning, writing many of the site's foundational articles.