Potted Planting Mediums: Choosing Containers And Composts For Houseplants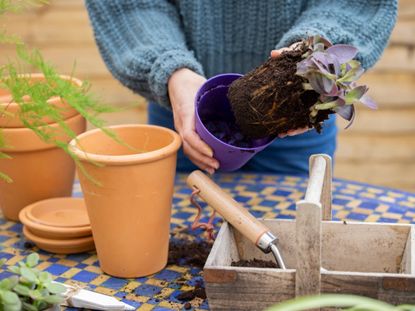 (Image credit: Daisy-Daisy)
Most of the time when you purchase a plant from the store, it's planted in compost in a plastic pot. The nutrients in the compost are enough to sustain the plant until it's purchased, perhaps several months. However, that's it. The plastic pot, of course, is just unattractive. You will, I'm sure, want to disguise it by placing it inside another larger pot, or by repotting the entire plant. You'll also have to consider different compost so the plant lives longer than half a year. For this reason, it helps to know how to choose containers for houseplants and potted planting mediums that will improve their overall health.
Pots for Houseplants
In choosing containers for potted environments, it helps to know that planters or pots range in many sizes but there are four sizes that are most used. For most houseplants, sufficient pot sizes are 6 centimeters (2 in.), 8 centimeters (3 in.), 13 centimeters (5 in.), and 18 centimeters (7 in.). Of course, for large trees or floor-standing plants, you may need to go as high as 25 centimeters (10 in.) to accommodate them. There are usually saucers available in matching sizes for the pots to stand in and stores don't usually charge for them. A traditional container for plants is the clay pot. These are firm, sturdy pots that match most plants and décor. They are porous so they are able to let excess moisture evaporate through the sides. Toxic salts can escape in the same way. If you have plants that require more moisture though, plastic might be best. In this case, you need to be sure not to overwater since it cannot evaporate out of plastic. For the most part, anything that has sides and a base can become a planter or ornamental container. Old teapots, jars, and thrift store finds are perfect. Old salad bowls, storage tins, buckets -- they all work! Even wooden boxes or small crates can help supply interest to your plant display. Plastic containers, terracotta pots, and even baskets can be painted. Anything made of metal is best used to hold plastic pots instead of for planting, but remember that metal rusts. Anything not waterproof can be used to hold pots as well, but make sure to line them with plastic so they don't get soaked. If you plant directly into pots that are not designed for this, you need to be careful. These containers may not provide the right kind of drainage. The base of the container has to be lined with a layer of clay pellets so they can help absorb moisture and give a good source of natural drainage. Also, if you mix charcoal with potting medium, the potting medium will remain sweeter.
Planting Mediums and Composts for Houseplants
In addition to replacing pots for houseplants, changing potted planting mediums, like compost, is necessary. Let's take a look at choosing composts for houseplants. A more popular planting medium includes the peat-free compost. This is because they don't continue the destruction of the natural habitat of a lot of animals and plants. Their main ingredient is coir, which is found in the husk of a coconut and it's a material used a lot in the past for making ropes and matting. Whether you are usually a devoted peat or soil based compost user, it's important that you experiment a little with the coir-based type. It has a lot of the same qualities as peat like the moisture retention abilities and aeration. Coir-based composts are readily available too. After you use it in pots inside, you don't have to throw it away. You can use it outside as a mulch around outdoor plants. The compost is what anchors the plants and provides them with moisture, food, and air for the roots. You cannot use garden soil for indoor plants because the quality is unreliable. It drains badly and contains weed seeds, bugs, and even diseases. Only the special indoor composts should be used with your houseplants, and there are two:
The first are the soil-based composts. They are made from partially sterilized loam, peat, and sand and have added fertilizers. These are suitable for most houseplants. They are heavier than other types of composts which is helpful for the added stability of larger plants. Soil-based composts are also unlikely to dry out fast or as completely as other types of composts, and they are richer in plant foods than other types.
The other types of compost are the peat-based composts (and peat-substitutes). These are more uniform in quality than soil-based composts. However, they do dry out more easily and once they dry out, they are hard to remoisten and tend to just float. They are lighter in the bag which makes for easier shopping, but they are poorer in nutrients, which makes for harder gardening.
It's your choice which of these potted planting mediums to use, and either one will work. Just remember what works best for your lifestyle and plant choices. Sometimes gardening is more like an experiment, especially indoors, but it's worthwhile. Learning how to choose containers for houseplants and using appropriate composts for houseplants will ensure their good health.
Gardening tips, videos, info and more delivered right to your inbox!
Sign up for the Gardening Know How newsletter today and receive a free download of our most popular eBook "How to Grow Delicious Tomatoes."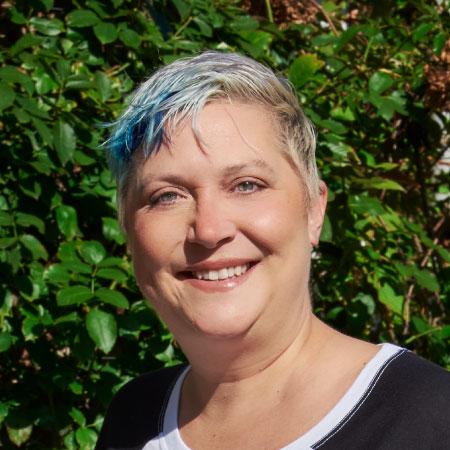 Founder of Gardening Know How
Heather Rhoades founded Gardening Know How in 2007 and built it up to what it is today.