Getting Kids Outdoors – Hacks For Gardening With Kids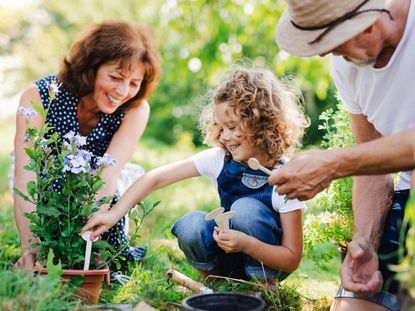 (Image credit: Halfpoint)
Both my children naturally love being outdoors, but getting kids outdoors in the garden may not always be so simple. That's why finding fun ideas to make gardening easier can help. Here are some hacks for gardening with youngsters around.
Garden Tips and Tricks to Engage Kids
Gardening with kids helps teach them about nature and the world around them. Here are some tips to help get the kiddos outside and make gardening easier:
Cinnamon, pepper, and sand: My son has a sandbox and it's one of his favorite places to spend the day. Cinnamon sprinkled into the sand helps keep bugs out and it also smells great! Another idea is to sprinkle a perimeter around the sandbox or garden area with black pepper, which is said to help keep ants out. Remember to reapply after a rain though.
Beans and sunflowers: Create a bean fort or sunflower house for the kids. This is a cute idea that gives children a fun and safe place to play or hang out in the garden.
Nightlight plants: Covering planters with glow-in-the-dark paints creates fun nightlights when playing outdoors on warm summer nights, which my son enjoys doing when the lightning bugs come out. Great teaching opportunity for nighttime pollinators and garden animals too.
DIY wind chimes: There are numerous ways to create interesting wind chimes to hang throughout the garden and outdoor areas. Each family member could even create their own and see what each comes up with. Some ideas include painting old keys or utensils.
DIY sprinkler: An old plastic soda bottle can be turned into a cheap sprinkler. This works in the garden and doubles as an inexpensive sprinkler for the kids. Poke holes into the bottle, use duct tape to attach to your hose, drape hose over something to make your sprinkler hang or lay in the grass and let it go.
Sting free please: Yes, bees are important pollinators but sometimes it's nice to have areas kids can play safely without the worry of stings, especially if you have children with allergies. Old jugs filled with sugar water or apple juice will trap bees, wasps, and hornets. For us, wasps have almost always been the culprits.
Mowed road: If you have a large yard or just need a way to keep children entertained while you tackle the chore of mowing, you can mow fun 'pathways' in the yard. Children can play in one area while you mow another.
DIY plant markers: One idea to get kids interested in helping in the garden is allowing them to create their own garden plant markers. You can create these with just about any old item you find, such as spoons, craft sticks, twigs, painted stones, etc. Let them get creative and see what they can come up with.
Gardening with baby: A pack and play creates a shady outdoor space in the garden that's safe for babies. Just place a fitted sheet over the top; you still have plenty of air flow, it's free from bugs, and it gets baby outdoors. It allows mom to get out and garden too.
Penny for your weeds: Pay kids a penny per weed (or dime or quarter based on age). Most kids are eager to do small chores for money and this helps you knock out a chore you may not be as enthused about. Be sure to supervise and help show them the proper way to pull weeds. This also helps with plant identification and learning what's a weed and what is not.
Gardening tips, videos, info and more delivered right to your inbox!
Sign up for the Gardening Know How newsletter today and receive a free download of our most popular eBook "How to Grow Delicious Tomatoes."