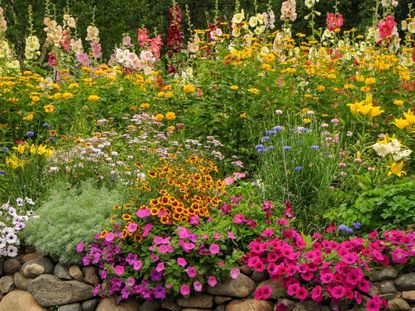 (Image credit: Tammi Mild)
There is just something appealing about an English cottage style garden. This popular aesthetic is both romantic and charming with its abundance of brightly colored flowers, bold textures and its free flowing, carefree look. Read on for design tips and a listing of classic cottage garden plants.
Cottage Garden History
While cottage gardens are trendy in the modern era, they did provide a solution to those with a lack of garden space in the days of old England. Many of the workers in the villages owned small homes with even smaller gardens. These gardens would have to supply the family with fresh produce. Many families would have gone hungry if they had not had the benefit of home-grown food.
Their gardens would consist of vegetables and mixed fruits, along with flowering plants to help attract pollinators to their crops.
As time went on and the era of romance evolved, these particular plants were considered to affect us emotionally, giving birth to what we know today as the cottage garden.
How to Design a Cottage Garden
The informal design of a cottage garden lends itself well to both large gardens and small spaces. Don't be afraid to add plants close together or intermix shrubs with perennials. Plus, the closer you plant, the less of a chance that weeds have a chance to germinate and grow.
Go for a variety of shapes, textures and flower colors just keeping to the best rule of thumb, to plant tall in the back and short in the front. For a more aesthetic look, try planting the same type of plant in groupings of odd numbers, such as 3 or 5.
Hardscaping elements may also be added to a cottage garden. This type of garden is often walled off by a fence or attractive stone wall. You could also add bird feeders, bird baths, walkways, arbors and a bench for seating..
Perennials
Perennial plants are often featured prominently in a cottage garden design.
You will need to select plants that accommodate the garden's light conditions, soil type and moisture levels. The plants are generally grouped closely together, so it is best to choose ones that will work together in unison.
Starting in the back of the border, these tall perennials provide a nice backdrop for their shorter growing neighbors:
Foxglove
Delphinium
Hollyhock
Tall Bearded Iris
Baptisia
Sweet Pea Vine
In the middle of the border you will find perennials usually growing 18-36 inches (45-90 cm.) tall:
Bee balm
Lupines
Peony
Lavender
Black-Eyed Susan
Butterfly Weed
Yarrow
Purple Coneflower
Shasta Daisy
Garden Phlox
Daylily
To edge the border, these low-growers are all good choices:
Annuals & Bulbs
While perennial plants are most common, some annuals grown from seed and some fall planted bulbs can also be a part of the design:
Zinnias
Cosmos
Daffodil
Globe Allium
Tulips
Herbs
Produce
Shrubs
If you have a bit more space to work with, there are a few traditional shrubs to use in a cottage garden. The most popular cottage garden shrub is the rose. Whether a shrub rose or climber, the heavy petal count of an English rose is right at home in the space.
Hydrangeas come in many different shapes, colors and varieties making them a good choice. They are generally easy to care for with a bit of maintenance in spring and fall.
The butterfly bush is also a lovely addition to add color, fragrance and butterflies. Climbing vines such as clematis, wisteria or sweet peas will add bloom power and vertical interest.
Container Cottage Garden
Whether you have a small space or just do not have the time to care for such a garden, then a container garden will allow you to capture the essence of this look without a lot of fuss.
Use a variety of pots that will offer bloom succession from spring to fall. Select one cottage garden plant to play the center role in each container and fill in with smaller plants. Do not be afraid to pack the plants in tight as you need a tight mix of color and texture to get that cottage garden look.
Gardening tips, videos, info and more delivered right to your inbox!
Sign up for the Gardening Know How newsletter today and receive a free download of our most popular eBook "How to Grow Delicious Tomatoes."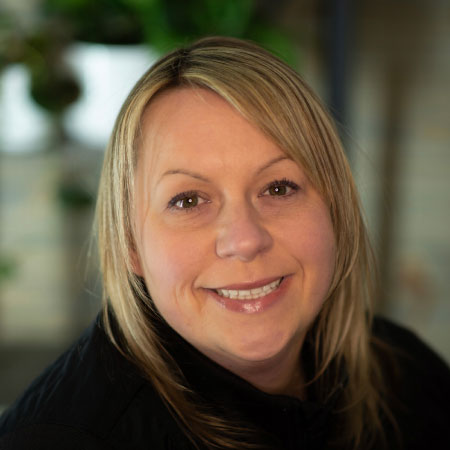 Digital Community Manager
Amy Draiss, Digital Community Manager at Gardening Know How since 2021, seamlessly blends her hands-on gardening experience with a digital green thumb. With roots in family landscaping and management at a garden center, Amy has cultivated expertise in plants, supplies, and customer relations. Residing in the Midwest, Amy tends to her two-acre haven, showcasing a diverse range of trees, shrubs, and perennials. As the Hydrangea Queen, she shares her love for these blooms and imparts gardening wisdom through videos and social media. Beyond gardening, Amy enjoys quality time with her family, travel, and theme parks. Amy's mission is to inspire and advise plant enthusiasts, fostering flourishing gardens for both seasoned and budding gardeners alike.