15 DIY Winter Wreath Ideas: Make A Natural Wreath Using Materials From Your Garden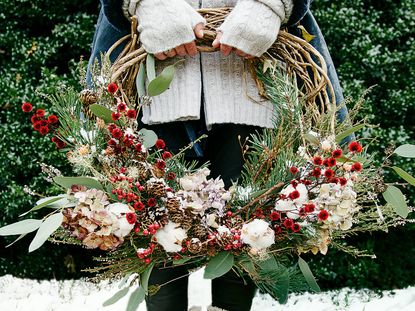 (Image credit: Future PLC)
There are so many beautiful DIY winter wreath ideas that you can make using natural materials. Collect foliage, flowers, berries, fruits, and other interesting items from your garden – or forage for them on seasonal walks.
Simple winter wreaths for the front door can make an impact throughout the coldest months of the year, or you could go all out and make a DIY natural holiday wreath to enjoy over Christmas and New Year.
Want even more DIY decor ideas you can make over winter? Download our free ebook!
Beautiful winter wreath ideas you can make
In these projects we have given you guidance for making your own wreath from scratch, but alternatively you can skip making the base and add to a plain wreath with plants from your yard.
1. Go all white with hellebores and pussy willow
Some of the most stunning DIY winter wreath ideas use just one color set against a rustic backdrop. In this case, white woodland hellebores and pussy willow are used to adorn a stick wreath. A few strands of foliage provide just enough pop of green.
To recreate the idea, you will need to first make a stick wreath. First, collect sticks from the yard, either ones that are fallen, or from trees or shrubs that need cutting back.
Cut the sticks fairly short with pruning shears – in mixed sizes between 3-6" – and gather randomly together into little bunches. Hold them in place with florist's wire, then attach to a wire wreath hoop – which will provide a base for structure. Move around the wreath in a clockwise fashion, working with the shape of the sticks.
Once you have your base, weave in stems of pussy willow catkins, or strands of white berries, and a few sprigs of foliage. Finish by attaching your hellebore flowers – thread the stems through the base, then fix with floral wire if needed.
2. Make it aromatic with homegrown herbs
This is one of the easiest yet most delightful DIY winter wreath ideas. Not only will an aromatic herb wreath smell divine when it's first made, but as the herbs dry out it will retain much of its fragrance and character.
Rosemary, bay, and sage are classic choices but you can experiment with any leafy herbs you have to hand.
To make an herb wreath you will need a wire wreath frame. If you want the herbs to stay fresher for longer, you can attach moss – available to buy from garden centers – to the frame using florist's wire. To do this, simply hold clumps of moss on the frame and wrap wire around to secure.
Cut your herbs to length using pruning shears or scissors, then gather them in bunches and affix to the frame using florist's wire. You can either mix different herbs together, or as here, keep them separate.
Tie a ribbon to finish and hang your wreath. Spritz the finished wreath regularly with water to keep it moist.
3. Feed the birds with a peanut wreath
Spare a thought for garden wildlife this winter, and make an edible wreath for the birds to enjoy.
You'll need a twig wreath frame of around 12" diameter, and a small birdhouse. You can make your own twig wreath frame using pliable lengths of twigs or vines from the garden – good options include willow, grapevine, dogwood, birch, and poplar. Avoid species that secrete resin.
To make a twig wreath, trim your twigs using pruning shears and strip them of their leaves. Manipulate the twigs to form a rounded shape – you can use two or three shorter lengths to make a circle, or one long length, then keep building it up. Discreetly wrap florist's wire around your wreath to hold the shape.
Next, attach your birdhouse to the middle of the wreath using florist's wire. Then, cut a few lengths of wire to around 8" in length, and use them to tread through peanuts in the shell, leaving a couple of inches of wire at either end.
Attach one end of each length to the back of the wreath, wrap around the front, then attach the other end to the back. Continue at intervals around the wreath.
Finish your feeder by adding in foliage, winter berries, and rose hips from the garden, then hang it up with ribbon.
4. Add seasonal color with red berries and rose hips
This beautiful wreath would work well for Christmas, but can equally be displayed at any time over winter.
Statement foliage breaks out of the classic wreath shape for a dramatic look, while rich red berries and rose hips add a pop of color, and rustic pinecones give a woodland feel.
You will need longer branches of your main foliage type, such as fir, for this wreath. This should be attached to a wire wreath frame padded with moss (see no. 2). Leave plenty of loose, hanging greenery on each branch and work in a clockwise direction so they face the same way, attaching them to the frame with florist's wire.
Intersperse sprigs of other types of foliage, to add further interest, and then decorate with other seasonal bounty such as berries, rose hips, and pinecones. If desired, hang a single bauble or bell in the middle for a subtle festive touch.
5. Elevate garden foliage with glitter
This is one of the simplest DIY winter wreath ideas – and the kids will love helping to decorate it. Glitter painted onto seasonal foliage adds subtle festive shimmer reminiscent of a magical frost.
To recreate the idea, attach branches of lush leafy foliage to a wire or twig wreath frame using florist's wire. Then, to highlight the leaves, paint on green glitter glue, or craft glue followed by glitter.
Bunches of cinnamon sticks, thistles and seed heads have been used to further embellish this wreath.
6. Bring woodland warmth with colorful leaves and pinecones
Perfect for fall or winter, this wreath is packed with seasonal color from golden and red leaves. You'll need to trim small branches from trees once their color has changed, but before the leaves fall.
Twist the branches around a wire wreath frame, and fix in place with florist's wire. Build up enough branches to get a good coverage, then add other decorations.
Pinecones enhance the woodland feel and can be added with wire. Bronze and gold decorations add a magical seasonal touch.
7. Mix different textures from the garden
Making a winter wreath offers so many opportunities to get creative with different textures.
This eye-catching seasonal wreath uses a mix of lush foliage and herbs as a base (see no.2) and then is adorned with pieces of attractive tree bark, pinecones, and dried lotus heads, adding interesting textures.
Deep purple berries and glistening baubles give midwinter richness to the design.
8. Go big with statement branches
This beautiful winter wreath uses long willow branches, and pink and white peppercorns to make an impact.
To recreate it, use a moss-covered frame (see no.2) as your base, then poke in your willow branches. These aren't supposed to look tidy, but you can shorten any overly long branches with pruning shears.
Next, add some foliage – here, pine is used for a woodland effect, but you can add any foliage you have in the garden. Just insert them evenly around the wreath, only using florist's wire if necessary.
Finish with a selection of other foraged items, such as peppercorn branches, velvety sage, and berried eucalyptus.
9. Add a vintage feel with dried flowers and grasses
Including dried flowers, foliage, seed heads, and ornamental grasses in your DIY winter wreath ideas adds a lovely vintage touch to the design, and looks stunning mixed with fresh foliage and berries.
This wreath uses an abundance of different textures and colors from the garden, and is a clever way to mix lush new greenery with foraged items from the previous season.
You will need to build up this wreath in the same way to the other designs, but take care when handling dried flowers and grasses, as they can be fragile.
10. Make a rustic apple wreath
If you still have a lot of leftover apples in storage after a bumper crop, then use some to make a charming country-style front door wreath.
To recreate this idea, you will need a metal wreath-making hoop – this one is about 10" in diameter – and a piece of medium-gage wire cut to a length of around 8" longer than the hoop circumference. For this wreath, 32" of wire was needed.
Clean your apples gently with a damp cloth, and polish them with a dry cloth. Then, push the apples onto the wire, and shape into a circle of a similar circumference to the hoop. Twist the ends of the wire around the hoop to secure.
Add foliage to your wreath by attaching stems to the hoop with florist's wire – this wreath uses ivy, but you can use any suitable greenery from your garden. You could also add rose hips and berries. To finish, tie a hessian ribbon bow at the top for a simple finishing touch.
11. Use dried fruit for a festive touch
Drying fruit is generally a great way to extend a harvest past the growing season. However, it also adds festive fragrance and color to DIY winter wreath ideas.
Sliced or even whole citrus fruits can be dried – though if drying whole, you'll need to add slits to the fruits' skin.
If creating a wreath with dried fruit, then a food dehydrator is the best tool for the job. However, you can also do it in an oven over a long period. Simply place fruit slices on a tray in a single layer in a preheated oven at 140-150°F (60-66°C.)
Open the oven door slightly to allow the excess moisture to escape, and every 30 minutes check on the fruit and stir it around a little.
Drying can take anywhere from four to eight hours for slices, and up to a day for whole fruits.
12. Opt for a minimalist foliage candle wreath
This Scandinavian-inspired candle wreath couldn't be simpler to make, and creates a warm welcome for guests on a bleak midwinter night.
Simply buy a basic wire wreath hoop – or make one with medium-gage wire – and attach a clip-on candleholder, into which you can sit your taper candle, held in place with a little melted wax.
Choose one or two attractive sprigs of foliage from the garden – enough to cover around two thirds of the wreath – and secure with florist's wire.
Never leave an open flame unattended. If you want this wreath to be used for long periods, then invest in a realistic battery-operated LED candle.
13. Make a feature of pinecones
There's nothing like decorating with pinecones to add a festive feel to natural winter wreath ideas. Pinecones can be so readily foraged and look perfect teamed with lush foliage. Collecting different sizes and species will add more interest than keeping them uniform.
When making a pinecone wreath, you need to first make a foliage-covered frame on a moss base (see no.2).
Then, attach your pinecones. You can wire them by wrapping a length of wire around each pinecone near the base, pushing it between the scales. This can then be discreetly fixed to your wreath.
Battery-operated lights offer winter sparkle.
14. Add midwinter magic with white berries
If you are lucky enough to have plants with white berries in your garden, then you will know how special they are. Adding berries to your wreath will truly imbue a winter feel.
Here, eucalyptus makes for a beautiful base foliage and gives a lovely forest fragrance. Though not in season at this time of year, baby's breath – or gypsophila – gives an elegant, airy feel to this wreath, and can be sourced from florists year round.
15. Keep it simple with a twiggy wreath
Celebrate the humble charm of twigs or vines with this simple wreath. You can use a variety of trees or plants for your branches – see no.3 – although making a grapevine wreath is particularly effective.
To adorn your twiggy wreath, simply gather a couple of handfuls of different garden foliage, then attach to the base of your wreath with florist's wire. Adorn with decorations, pinecones and anything else you have to hand.
What can I put in a winter wreath?
Foliage, berries, and pinecones are mainstays of DIY winter wreath ideas, but there are other natural items you can include.
Consider adding dried fruits and flowers, rose hips, seed heads, and even textural barks.
Finish your winter wreath with festive decorations, twinkling lights, and ribbons if desired.
What kind of wreath to hang after Christmas?
After Christmas, keep festive decorations to a minimum and opt for a theme of midwinter magic. This can be achieved with lots of foliage and berries – particularly white ones. Pinecones are ideal for adding a woodland feel.
For something really special, create a hellebore wreath once the flowers start to bloom in your garden.
Alternatively, you can keep things really simple if you make an evergreen wreath with no adornments.
Gardening tips, videos, info and more delivered right to your inbox!
Sign up for the Gardening Know How newsletter today and receive a free download of our most popular eBook "How to Grow Delicious Tomatoes."