Edible Herb Gardens: Tips For Growing A Culinary Herb Garden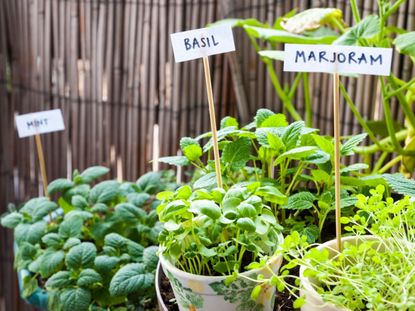 (Image credit: uuurska)
An edible herb garden, or culinary herb garden, is made up of herbs that are used mostly for adding flavor to your cooking and salads, or for making teas. The edible herb garden is by far the most popular type of herb garden for the home gardener. When choosing herbs for your culinary herb garden, be careful to check the flavor of the herbs before purchasing the plants. There are many varieties of different herbs and some have stronger flavors than others. To be sure you're getting the flavor you desire, pinch off a leaf and taste it. It's best to keep a culinary herb garden in close range of your kitchen, just outside your back door for example, or even in a few pots on the kitchen windowsill. In either case, the closer, the better, because no one wants to have to go clear across the yard to get a few fresh herbs while in the middle of preparing a favorite dish.
Choosing Edible Herbs
Your own perfect edible herb garden will consist of all the different herbs that you use in your family's cooking every day. Different cultures and different types of cuisine use different herbs. By choosing to grow the herbs you use most often, you'll save yourself a lot of money and a lot of time by not having to run out to the grocery store every time your recipe requires the use of fresh herbs. If your family enjoys eating Italian foods, you might choose to get your Italian herb garden started with:
For French cuisine you might choose to grow French herbs:
For Asian dishes you may want to grow Asian herb garden plants like:
Herbs used in Mexican cooking would include herbs such as:
Popular edible herbs that can be used for making tea gardens are:
Other popular herbs for the culinary herb garden might include:
Saving Edible Herbs
Most herbs are best when used fresh from your garden, but at the end of the growing season you may want to freeze or dry some of your herbs for use during the winter months. Dried herbs can be kept for months in airtight jars, plastic containers, or plastic bags. Dried herbs do lose some of their flavor over time, so be sure to adjust your recipes accordingly. Frozen herbs also can be kept for extended periods of time as long as they are kept in airtight, plastic containers or bags to prevent breakage.
Kitchen Herbal Garden Kits
Kitchen herbal garden kits are available and are becoming quite popular. They make starting a culinary herb garden fast and easy. In a kitchen herbal garden kit, you'll find everything you need to start and grow your own edible herb garden including seeds, soil, and pottery. Kitchen herbal kits can be found online or at your local gardening center. Of course, you don't need to purchase a kit to get you started. A few clay pots, potting soil, and some seeds are all you need. Once you get your edible herb garden growing, you'll wonder how you ever survived without it.
Gardening tips, videos, info and more delivered right to your inbox!
Sign up for the Gardening Know How newsletter today and receive a free download of our most popular eBook "How to Grow Delicious Tomatoes."